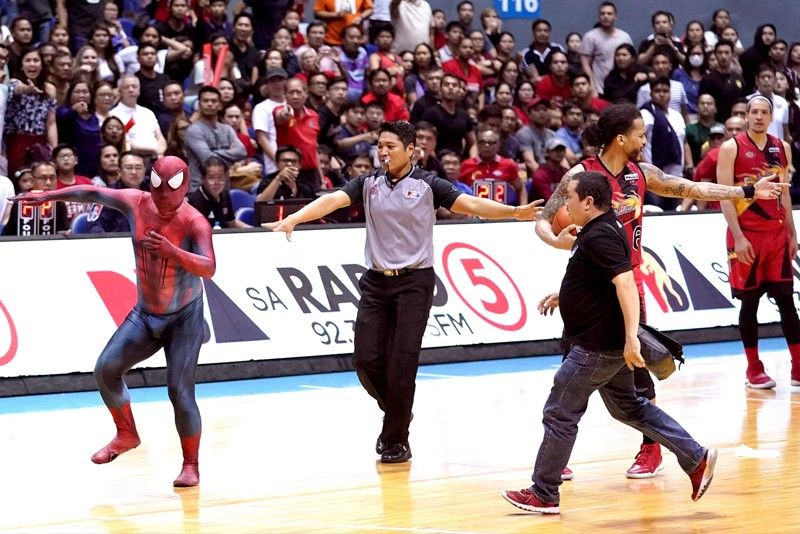 Action in last Friday's Game 5 is halted when a fan dressed as Spiderman storms into the court and causes a commotion during the fourth quarter.
Joey Mendoza
PBA orders Spiderman, friends: Stay off the court
Olmin Leyba
(The Philippine Star) - May 12, 2019 - 12:00am
MANILA, Philippines — The Philippine Basketball Association is eyeing more stringent security measures and additional personnel to prevent a repeat of the "Spiderman" incident that marred Game 5 of the Philippine Cup finals on Friday night.
A fan dressed in Spiderman costume streaked onto the Big Dome court at the 3:06 mark of the fourth, disrupting play and accidentally colliding with San Miguel's June Mar Fajardo, leaving the gentle giant dazed from a hit to the jaw.
The intruder, who was mobbed after his action, was taken to the police station after the incident. The PBA intends to file charges of alarm and scandal on the person, whose identity remains on hold.
"We've set a meeting with the Araneta Coliseum management to discuss protocols regarding people's presence in the hallways when players are heading towards the dugouts as well as the in parking area and find ways how to ensure there will be no similar incidents," PBA commissioner Willie Marcial told The STAR yesterday.
"I've also spoken with NCRPO chief Maj. Gen. Guillermo Eleazar to request for more police in the games," he added.
Asked if masked superhero costumes will be banned from PBA matches from now on, Marcial shrugged it off.
"It's okay. They may dress in superhero costumes as long as they will not enter the court and possibly cause harm," said the PBA chief.
Marcial said they won't let "Spiderman" get away with the stunt, which the latter claimed was his way of conveying his message to "vote wisely" in tomorrow's polls and "spread the love."
"We'll be taking legal action so that others won't do something similar in the future and risk hurting people," he said." He had good intention but bad execution."
Fajardo said this should be a lesson learned for "Spiderman."
"I hope he's okay. Perhaps he didn't intend to hit me. To the fans, this is not the right thing to do. I hope it won't happen again because it's a dangerous thing he did out there. He may cause injury to players, he may get injured himself. It's just fortunate no one got really hurt," said Fajardo.
Meanwhile, Marcial said his office would also look into how the players, security and other game personnel handled themselves in the heat of the incident and see if they did something inappropriate.
"We'll review the video on Tuesday and see," the PBA Commissioner said.