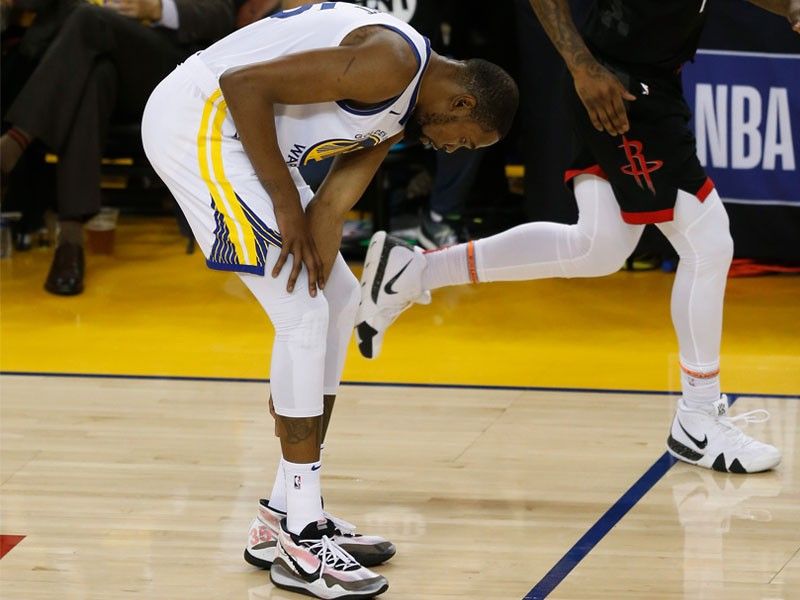 Kevin Durant No. 35 of the Golden State Warriors holds his calf during Game Five of the Western Conference Semifinals of the 2019 NBA Playoffs against the Houston Rockets at ORACLE Arena on May 08, 2019 in Oakland, California.
Lachlan Cunningham/Getty Images/AFP
Durant suffers right leg injury in Warriors' Game 5 win vs Rockets
(Agence France-Presse) - May 9, 2019 - 4:01pm
LOS ANGELES – Golden State pulled out a 104-99 victory over the Houston Rockets on Wednesday (Thursday Manila time) as the Warriors survived the loss of superstar Kevin Durant to grab a 3-2 lead in their second round NBA playoff series.
Draymond Green and Klay Thompson nailed clutch 3-pointers late in the fourth quarter for the Warriors but the buzz after the game was not about the win but rather the health of Durant.
The Warriors said he had suffered a right calf strain but Durant is expected to undergo an MRI scan to Thursday to determine the full extent of the damage.
Warriors coach Steve Kerr sounded cautiously optimistic — hoping for the best but also preparing for something worse if it does turn out to be more serious like a ruptured Achilles.
"We are all disappointed for him. Excited about the win but concern for Kevin. He had been on this incredible playoff run. I am proud of the guys and the way they pulled out this win and we will see about Kevin tomorrow," said Kerr.
Durant's injury occurred innocently enough after he hit a jumper from the right side with just over two minutes left in the third quarter.
He took a step forward then grimaced in pain and looked down at his lower right leg.
"He's done a lot for us. We got to have his back — that is what tonight was about," said Warriors Stephen Curry.
Thompson finished with 27 points, Curry 25 and Durant 22 for the Warriors, who continued a run of home wins by the teams in the series.
James Harden was the game's leading scorer with 31 points for the Rockets, who were outshot by the Warriors from the field 46 percent to 42 percent.