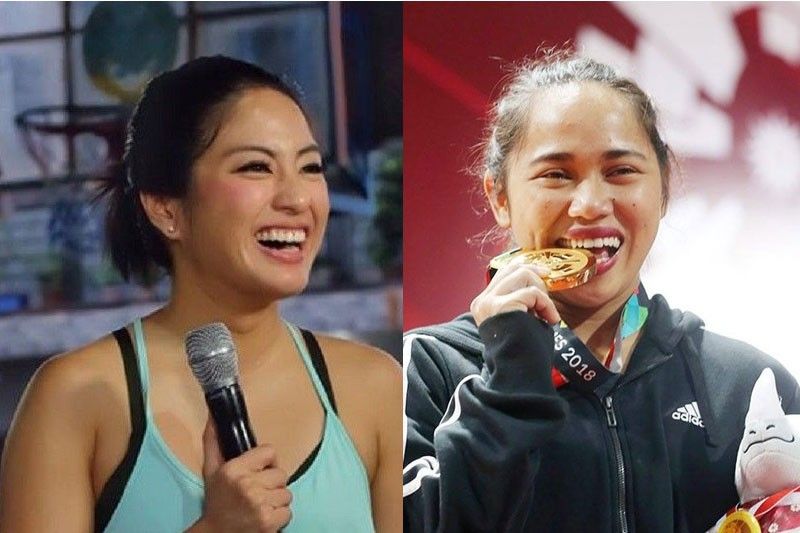 Gretchen Ho and Hidilyn Diaz were among the names included in the alleged Duterte 'ouster matrix' released
'#Facepalm': Twitter reacts to Gretchen Ho, Hidilyn Diaz 'ouster matrix' inclusion
QUEZON CITY, Philippines — When it came to Malacanang's most recent "Duterte ouster matrix," even elite athletes Gretchen Ho and Hidilyn Diaz weren't spared.
Both women were shocked at the inclusion and the general public shared the same sentiment.
Sen.Ping Lacson took to Twitter to express his disbelief.
Weightlifter Hidilyn Diaz has brought honor to the country while journalist Gretchen Ho has carved out a name for herself in her field, both through discipline and hard work. Their inclusion in the matrix either involved excellent intelligence work or Bikoy had infiltrated NSA.

— PING LACSON (@iampinglacson) May 8, 2019
Lacson cited the successes both Ho and Diaz have made for themselves in their respective fields.
Ho's fellow journalist Atom Araullo also poked fun at the issue on social media.
Kakausapin pa ba kita? Baka masama pa ako sa matrix ????

— Atom Araullo (@atomaraullo) May 8, 2019
Araullo contemplated if he should even talk to Ho anymore, saying he himself might be suddenly included in the matrix too.
Meanwhile, journo Inday Espina Varona used a single hashtag to react to the whole fiasco.
#Facepalm Hidilyn Diaz, Gretchen Ho tagged in Palace 'matrix', deny knowledge of video sharer | ABS-CBN News https://t.co/wI4IOubbeC

— inday espina varona (@indayevarona) May 8, 2019
"#Facepalm," Varona's tweet read.
Twitter user @gxbrielperez also pointed out that Diaz would be too busy preparing for the 2019 SEA Games and the Tokyo 2020 Olympics to even be involved in this alleged ouster.
Jusko pati si @diaz_hidilyn? NASAN NA MGA BRAIN CELLS NYO? SHE'S BUSY PREPARING FOR SEAGAMES 2019 AND TOKYO 2020!!! https://t.co/M4LjWkm9sC

— G?briel (@gxbrielperez) May 8, 2019
Meanwhile, Twitter user Christian Jay thought their inclusion was so outrageous that he said he wouldn't be surprised if fictional characters like Marvel's Thor or Thanos made their way into the supposed matrix.
Ayaw talaga magpa-awat ni Panelo. Pati si Hidilyn Diaz at Gretchen Ho kasama na si "matrix" na 'yan. 'Di ako magugulat kung sa isang linggo kasama na dyan sina Thor or Thanos. Napakawalang kwenta talaga.

— Christian Jay (@christianjayy_) May 8, 2019
"Napakawalang kwenta talaga," Jay's tweet read.
Needless to say, a whole lot of people find their inclusion in this matrix disbelieving.