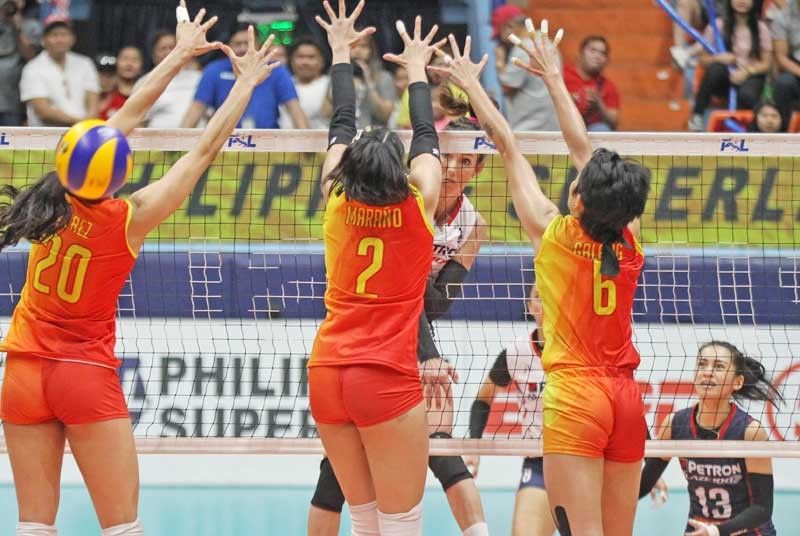 Petron's Stephanie Niemer tries to penetrate the defense of F2 Logistics' Abby Maraño in Game 2 of the title series last Thursday.
Jun Mendoza
Blaze Spikers, Cargo Movers go at it in sudden death
Joey Villar
(The Philippine Star) - May 4, 2019 - 12:00am
Game today
7 p.m. – Petron vs F2 Logistics
MANILA, Philippines — The Philippine Superliga Grand Prix title series boils down to a deciding Game 3 tonight in a match that nullifies whatever momentum Petron has gained in its Game 2 win and any imprint F2 Logistics had left from its stunning Game 1 victory.
F2 Logistics coach Ramil de Jesus put it all in context when he said: "This is going to be a dogfight" after the Cargo Movers dropped a 25-23, 23-25, 15-25, 19- 25 decision Thursday, setting up the 7 p.m. duel for the coveted crown at the Filoil Flying V Centre in San Juan.
It could even go down to the last serve, set or kill.
Petron coach Shaq delos Santos stressed the need for his wards to start out strong that has been F2 Logistics' domain based on the Cargo Movers' performance in the first two games, including in their 25-20, 16-25, 25-23, 25-23 escape in the series' opener.
"We have to check our consistency, especially at the start of the match," said Delos Santos. "We have to come up with a strong start and a stronger finish to avoid trouble. F2 Logistics is such a solid and veteran team. They will surely take advantage of the opportunity if we'll have another slow start."
Despite another shaky stint in the early going of Game 2, the Blaze Spikers regrouped and re-imposed their will behind the power-hitting import tandem of Katherine Bell and Stephanie Niemer, who combined for 48 hits to power the team to the series-tying win, and the local crew made up of Mika Reyes, Rhea Dimaculangan and Aiza Maizo-Pontillas.
The Blaze Spikers used their Game 1 setback as a rallying point to keep their title-retention drive going with Delos Santos hopeful of his charges' sustained attack against the gutsy Cargo Movers.
"We took Game 1 as a challenge. It was a wakeup call," said Delos Santos. "We had an open forum after that Game 1 loss where we allowed everybody to express their feelings. We have to release all of those so we can feel the presence of each other. I'm glad that everybody stepped up and was on the same page all throughout the match."
The Cargo Movers, on the other hand, are expected to come out with better coordination and team play following a series of miscues that hastened their downfall Wednesday.
D e J e s u s a l s o re m a i n s unfazed by the Blaze Spikers' surge, confident of his wards' ability to rebound from a heart-breaking setback while vowing to set out for the match without the proverbial sudden death pressure.