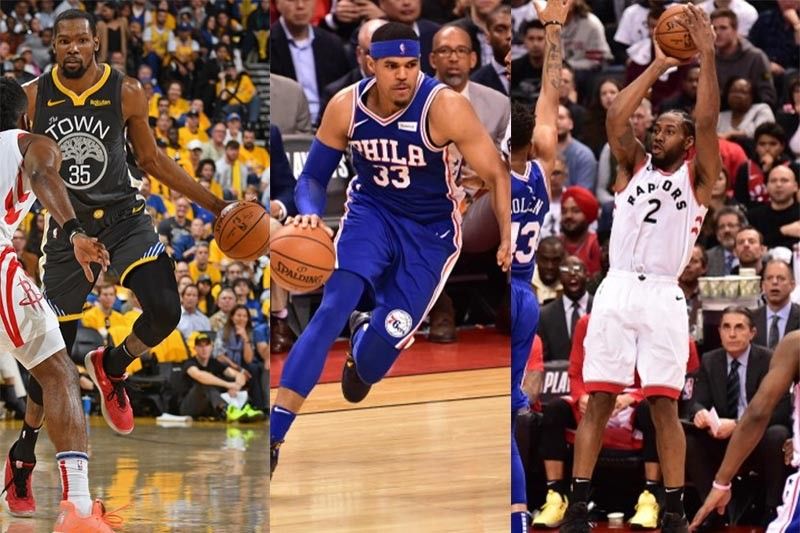 Kevin Durant, Tobias Harris and Kawhi Leonard are reportedly considering the Brooklyn Nets as their destination this summer.
AFP
Report: Durant, Leonard, Harris to consider Brooklyn in NBA free agency
MANILA, Philippines — Big names like Kevin Durant, Kawhi Leonard and Tobias Harris are hitting free agency this summer, and all three stars may be bringing their talents to the Brooklyn Nets.
SportsNet New York reporter Anthony Puccio said that the free agents will at least consider the Nets as their destination after the 2018-2019 season.
Sources have told me marquee free agents like Kevin Durant, Kawhi Leonard & Tobias Harris will consider Brooklyn when making a decision this summer.

More on that here for @SNYtv: https://t.co/H0Ej3JRmWJ via @SNYtv

— Anthony Puccio (@APOOCH) May 1, 2019
The Nets, who recently ended their season after losing to the 76ers in five games, may have enough cap space to sign two big free agents in the offseason.
However, getting two max free agents may entail renouncing D'Angelo Russell.
Russell was a key contributor in the Nets' playoff run.
Meanwhile, Durant has also been speculated to join the New York Knicks next season.