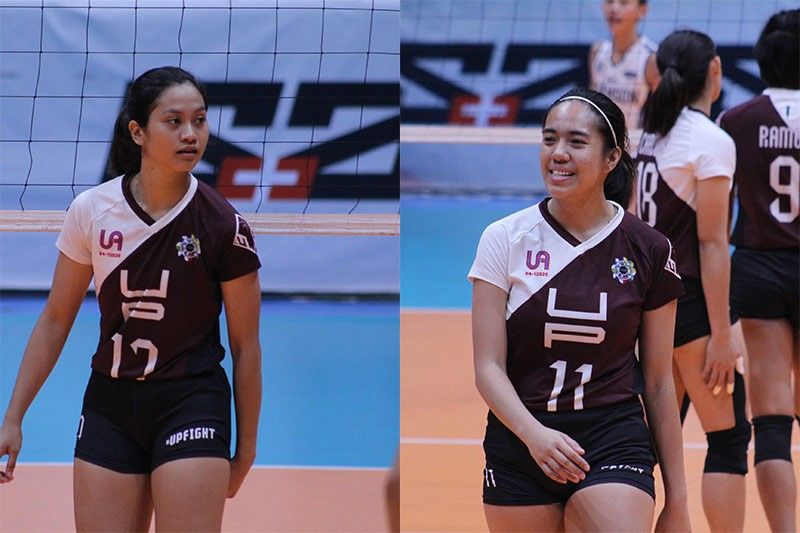 UP's Ayel Estrañero (17) and Marian Buitre (11)
Philstar.com/Luisa Morales
Journey more important than destination for UP's Estrañero, Buitre
MANILA, Philippines — A fifth place finish was hardly what anybody expected from the UP Lady Maroons in the 81st UAAP women's volleyball season.
Following a stellar offseason with two titles to their name, the Diliman-based squad was a heavy favorite.
So when the Lady Maroons ended their UAAP run with a mediocre 6-8 finish, it was nothing short of disappointing.
But graduating senior Ayel Estrañero does not want to dwell on her UAAP career's bittersweet end.
"It wasn't the end that most of us wanted and it wasn't even a season that everyone actually expected from us... but like I said, I wanna focus more on the journey," Estrañero said after the game.
"People from the outside only see the results, they don't actually see the struggles, the sacrifice and the effort the entire team actually put in everything we did," She added.
Fellow senior Marian Buitre shared the same sentiments.
"Di naman lahat ng results magiging in favor [sayo] palagi... but I guess, the results are not as important as the journey," Buitre said.
"Yung journey ko with the team and with the UAAP, it has been really meaningful and ang dami kong natutunan," she added.
While Estrañero and Buitre fell short of bringing the Lady Maroons to the semifinals in their final stint with the team, the seniors finish their five-year journey with their heads held high.
"I'm proud of what I've become, of how I've grown throughout my UAAP career and I guess that's all that matters," Buitre said.
"The journey was definitely something I enjoyed, something I learned to love... I really have no regrets of playing my fifth [year]," Estrañero added.
Moving forward from their UP careers, both seniors are taking their talents to the pros.
Estrañero is set to suit up for Motolite in the Premier Volleyball League this May while Buitre has yet to decide on anything final.
Apart from volleyball, Buitre is also focusing on getting her Architecture license.