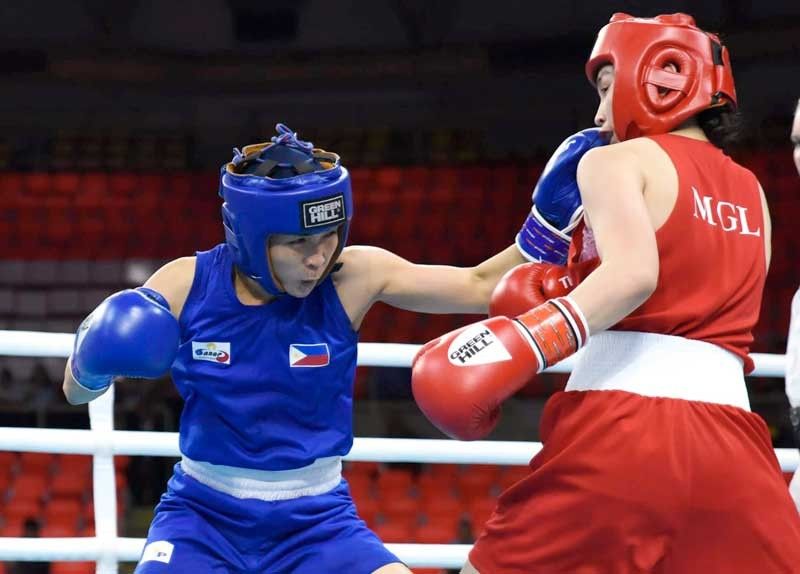 Light flyweight Josie Gabuco of the Philippines (left) tags her Mongolian rival in an early bout in her gold-medal feat in the Asian Boxing Championships in Bangkok, Thailand. Gabuco beat North Korean Kim Hyang Mi in the finals and was adjudged the tournament's Best Female Boxer.
ASBC/Margit Kincses
Gabuco earns gold, ASBC Best Female Boxer honors
Joey Villar
(The Philippine Star) - April 27, 2019 - 12:00am
MANILA, Philippines — Josie Gabuco outwitted North Korean Kim Hyang Mi to claim the women's light-flyweight gold yesterday in the Asian Boxing Championships (ASBC) at the Hua Mark Sports Complex in Bangkok, Thailand.
The 32-year-old Gabuco, gold medalist in the 2012 World Championships and four-time champion in the SEA Games, showed that she still has some fight left in her by outlasting a power-punching Kim.
For her outstanding performance in this year's event, the boxer and single mother from Palawan was adjudged the Best Female Boxer.
Fil-Brit John Tupaz Marvin, meanwhile, failed to match Gabuco's feat as he dropped a 0-5 setback to Kazakhstan's Bek Nurmaganbet in their light-heavyweight gold medal match.
Association of Boxing Alliances in the Philippines (ABAP) and Philippine Olympic Committee (POC) president Ricky Vargas congratulated Gabuco for her latest feat.
"She really deserves this win. She worked hard, focused and believed. She did it all. I'm so happy for her. Mabuhay ka, Josie," said Vargas.
Don Abnett, the Australian coaching consultant for the Philippine boxing team, was all praises for Gabuco.
"She's a talented girl with a lot of heart and has the ability to confuse the enemy. In the finals match, she made the North Korean lass miss so many punches and delivered her own ones and twos to seal the deal," said Abnett.
Gabuco added the ASBC gold to her growing collection that includes bronze medals in the 2008 World Championships and 2009 Asian Indoor and SEA Games gold medals in 2009 in Laos, 2011 in Jakarta, 2013 in Myanmar and 2015 in Singapore.
And it bodes well for Gabuco's bid for a fifth SEAG gold when the country hosts the biennial meet late this year.
Ian Clark Bautista, who recently moved up to bantamweight, settled for a bronze after absorbing a split decision defeat to Uzbekistan's Mrazuzbek Mirzahallov in their semis duel.