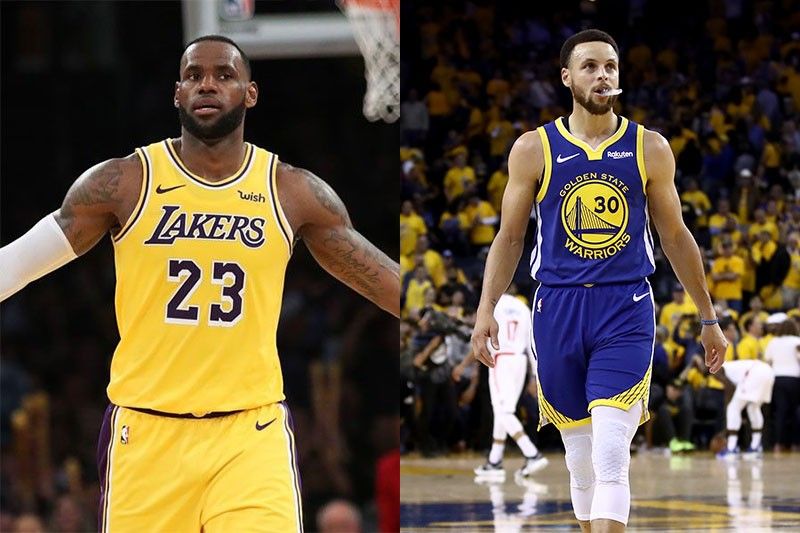 LeBron James and Stephen Curry
AFP
LeBron James, Steph Curry top NBA jersey sales anew
MANILA, Philippines — Apart from their rivalry inside the court, LeBron James of the Los Angeles Lakers and Golden State Warriors star Steph Curry also go head-to-head when it comes to selling jerseys.
James and Curry find themselves in the top two spots of the NBA's most popular jerseys once again this 2018-2019 season.
???? the NBA's most popular jersey and team merchandise lists... based on @NBASTORE sales since the beginning of the 2018-19 NBA Regular Season! pic.twitter.com/KxqUCpLfrE

— NBA (@NBA) April 25, 2019
Following closely behind the two superstars is MVP frontrunner Giannis Antetokounmpo of the Milwaukee Bucks.
Boston's Kyrie Irving and Philly's Joel Embiid take the fourth and fifth spot in the rankings, respectively.
Meanwhile, recently retired Dwayne Wade of Miami finds himself at No. 11.
Rookie of the Year favorite Luka Doncic of the Dallas Mavericks also gets a spot in the top 15.
Mirroring the top two spots for player jerseys, the LA Lakers and the Golden State Warriors also sell the most jerseys as a team.