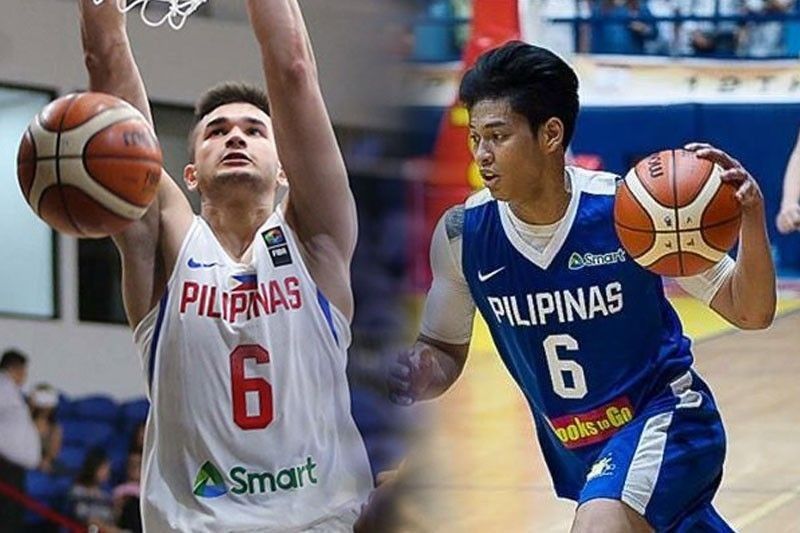 Kobe Paras and Ricci Rivero
Paras, Rivero banner UP's loaded Filoil lineup
MANILA, Philippines – The stacked and talented UP Fighting Maroons just got better with the key additions of Kobe Paras, Ricci Rivero and Jay Gob.
The three will make their Filoil Flying V Preseason Cup debut with UP on May 5 when they battle reigning NCAA three-peat champions San Beda at 2 p.m. at the Filoil Flying V Centre in San Juan.
The trio joins veterans from last year's squad that made the UAAP men's basketball finals that feature Jun Manzo, Juan and Javier Gomez De Liaño, JD Tungcab, Janjan Jaboneta, Pio Longa, David Murrell, Bright Akhuetie, Jerson Prado, Will Gozum and James Spencer.
Gone from last year's roster is leader Paul Desiderio, point guard Jarrell Lim, forward-center Gelo Vito, sniper Diego Dario and JJ Espanola.
Noah Webb returns to the team after sitting out a year.
Rivero will be back in action after sitting out the previous year after transferring from La Salle, where he fell out with team management over certain matters.
Paras, son of former UP player and PBA great Benjie, will get his first taste of Philippine collegiate action after playing a few years in the United States with Middlebrooks Academy in senior high school, Creighton University for his freshman year in college before being red-shirted after transferring to Cal State Northridge. When former NBA player Reggie Theus, Cal State's then coach was axed, Paras opted to return to the Philippines.
Jay Gob, like Rivero, last played for DLSU, but found himself cut from Team A.
Head coach Bo Perasol is back for his fourth season with the Fighting Maroons and they will be battling even bigger expectations.
Perasol's team is in Group A of the 16-team tournament — both Ateneo and the University of the East begged off from the tournament citing pre-season scheduling conflicts — that include Arellano University, De La Salle University, Jose Rizal University, San Beda University, San Sebastian College-Recoletos, University of Perpetual Help System Dalta and University of Santo Tomas.
The matches of the 13th season of the Filoil Flying V Preseason Cup will be held at the Filoil Flying V Centre in San Juan.