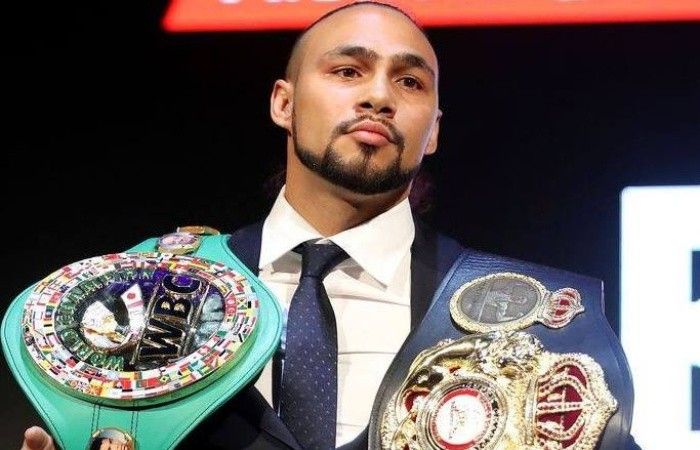 WBA welterweight champion Keith "One Time" Thurman
Thurman via Facebook
Thurman likely next Manny foe
It appears that "super" WBA welterweight champion Keith Thurman will be the next opponent of "regular" WBA titleholder Manny Pacquiao and there are plans to stage the unification showdown in Las Vegas on July 20. A Pacquiao insider said yesterday the senator has given marching orders to set the fight in July but it's been a struggle to find a convenient date for the event.
The original target date of July 13 has been moved a week later because time will be too short to promote the fight and for the boxers to train. July 20, however, may be too close to when President Duterte is scheduled to deliver his State of the Nation Address, an occasion that Pacquiao will want to attend. But even if the venue and date are locked up, the next question is the opponent's availability. If it's Thurman, will he agree to fight in July?
If the fight will be in July, the protagonists should come to terms by the end of this month to allow a week for a US promotional tour and the opening of training camp by mid-May. That would provide a two-month window for training. It's doable but all the stars need to be aligned for the fight to materialize – a suitable venue, an open date for pay-per-view and the fighters' availability. Since Pacquiao and Thurman are linked to Al Haymon, working out the terms of the contract shouldn't be a problem. Haymon will be fair to both fighters for sure.
A Pacquiao-Thurman showdown makes sense. They're both WBA beltholders. For business reasons, the WBA recognizes multiple champions in different divisions with regular, super and gold titlists. The more champions, the more championship fights, the more sanction fees to be paid. The WBA used to also recognize undisputed, unified and interim champions. Now the categories are down to three. At the moment, the WBA has 10 super, 16 regular and five gold champions in 17 weight classes. A Pacquiao-Thurman duel will settle who's boss in the 147-pound division at least in the WBA. The other welterweight champions are the IBF's Errol Spence Jr., the WBO's Terence Crawford and the WBC's Shawn Porter.
FOX is reportedly mounting the fight on pay-per-view. Pacquiao remains a major magnet for sales with his recent fight against Adrien Broner registering over 400,000 pay-per-view buys. The Wilder-Fury heavyweight contest brought in only 325,000 last December and the Spence-Garcia welterweight bout took in 360,000 last March.
Pacquiao, 40, and Thurman, 30, fought last a week from each other. Pacquiao scored a unanimous 12-round verdict over Broner in Las Vegas last Jan. 19 while Thurman pounded out a majority 12-round decision over Josesito Lopez in Brooklyn last Jan. 26. Thurman has a 29-0 record, with 22 KOs. If the fight pushes through and Thurman loses, he won't be the first unbeaten fighter whose record was stained by Pacquiao. The others were Chris Algieri, Tim Bradley, Jorge Solis, Emmanuel Lucero, Nedal Hussein, Seung Kon Chae, Dele Desierto and Rocky Palma.
Thurman didn't fight in 2018 and took a nearly two-year layoff to recover from elbow surgery and a hand injury. Five of his last six fights went the distance, one a split decision and one majority. He fought only once in 2016 and once in 2017 so his activity has not been at a high rate. Since 2016, Thurman has appeared in three fights compared to Pacquiao's five.
Pacquiao fought twice in 2016, once in 2017, once in 2018 and so far once this year, winning four and losing only to Jeff Horn on a disputed decision. Pacquiao's record is 61-7-2, with 39 KOs. Thurman was only six years old when Pacquiao turned pro in 1995.
Two of Thurman's marquee victims were Porter and two-time world champion Danny Garcia. What makes Thurman a tough opponent is his slick style. He's hard to hit and smart. Boxing News writer Carlos Acevedo described him as "a two-fisted banger with a cerebral outlook between the ropes." Acevedo said Thurman "alternates leading and countering pressure with skittishness and frenzied assaults with a deliberate offense … on the outside, Thurman feints, circles the ring in both directions, flicks out a pesky jab and looks to counter an onrushing opponent with his booming straight right."
If and when Pacquiao and Thurman face off, it'll be an interesting, tactical battle. Right now, Floyd Mayweather is out of the Pacquiao picture. But while Mayweather continues to deny plans of a comeback, talk of a rematch just won't go away because the fans want it to happen. Once Pacquiao disposes of Thurman and claims exclusive ownership of the WBA throne, a defense against Mayweather would be a juicy proposition.