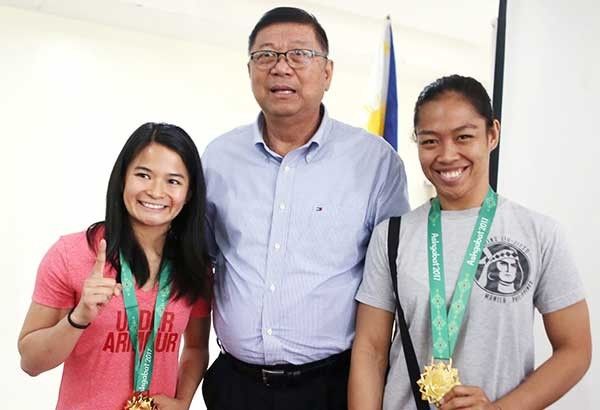 Annie Ramirez (rightmost) is pictured here with PSC chair William Ramirez and fellow jiu-jitsu competitor Meggie Ochoa.
Joey Mendoza
Ramirez wins career-first gold in Abu Dhabi world jiu-jitsu tiff
MANILA, Philippines – Annie Ramirez pocketed her first gold medal at the Abu Dhabi World Professional Jiu-Jitsu Championship at the Mubadala Arena Wednesday, which bodes well for her golden bid in the Southeast Asian Games that the Philippines will host late this year.
Ramirez, 28, was declared winner in the female purple belt 55-kilogram final by the refs despite her match with American Sophia Dalpra ending in a 4-4 deadlock.
She was pretty emotional after receiving her breakthrough gold in four years.
"This is my first gold in four years in the World Pro and it means a lot for me and my country," said Ramirez in an interview with the National, a Middle East news service.
It was also the biggest triumph for Ramirez thus far after grabbing golds in the 2016 Asian Beach Games and Ashgbagat Asian Indoor and Martial Arts Games the same year.
"I got emotional because I have never won a gold on a world stage and with the points tied, that was a long and anxious wait before I was declared winner," she added.
Ramirez, who beat Kazakhstan's Galina Duvanova, 5-0, and United Arab Emirates' Emorati Mana Al Hanaei via submission, said the feat comes at a time when the country is eyeing nothing less than a gold medal in the SEAG.
She and Margarita Ochoa, who claimed a gold in last year's World Championship in Malmo, Sweden, are expected to spearhead the country's SEAG campaign.
"My focus now is the next competition in Mongolia and then prepare for the SEA Games," said Ramirez.
Ramirez also dedicated her win not just to the Filipinos but also to children with hearing impairment.
"The gold means a lot for me as a jiu-jitsu teacher for kids with hearing impairment. I'm sure it will motivate those kids, and perhaps, see some of them competing in Abu Dhabi in the foreseeable future," she said