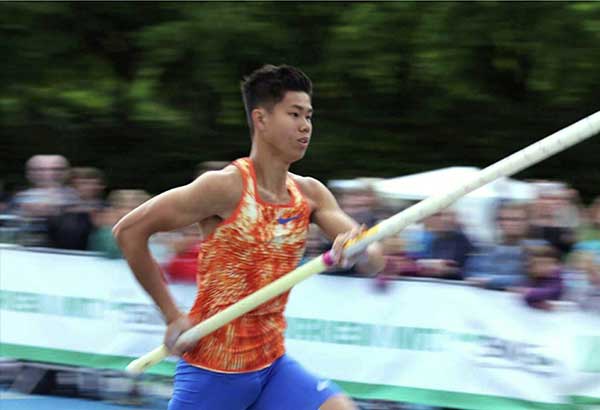 Pole vaulter Obiena strikes gold in 23rd Asian Athletics tiff
MANILA, Philippines – EJ Obiena took the pole vault gold in the 23rd Asian Athletics Championships in Doha, Qatar in a record-breaking Easter Sunday performance that augurs well in his gold medal bid in the Southeast Asian Games the Philippines will host late this year.
The 23-year-old Obiena registered 5.71 meters in besting a pair of heavily favored Chinese rivals in Zhang Wei and Huang Bokai, who each posted 5.66m to settle for the silver and bronze medals, respectively.
Zhang, an Asian Indoor silver medalist who won the last staging of this event in Wuhan, China two years ago, and Huang, a former Asian Junior champion and 2016 Asian Indoor gold medal winner, were leading in the first three attempts before Obiena vaulted his way to the top in the final three tries.
It was an effort that set a new Asian Athletics Championship record, erased Obiena's own national mark of 5.61m he set in the Stabhochsprung Classic in Leverkusen, Germany two years ago and earned him a spot in the World Championships in September also in Doha.
The victory was made sweeter by the fact that national anthem was played in the biennial competition for the first time in a long while.
Athletics chief Philip Ella Juico and executive director Edward Kho was there to accompany Obiena in his moment of triumph.
More importantly, it boosted Obiena's SEAG bid as his current best surpassed the current record of 5.35 set by reigning gold medal winner Porranot Purahong of Thailand in the 2017 edition of the biennial meet in Kuala Lumpur, Malaysia.
Interestingly, Obiena wound up with just a silver behind Purahong.
This time, Obiena hopes to finally strike gold.