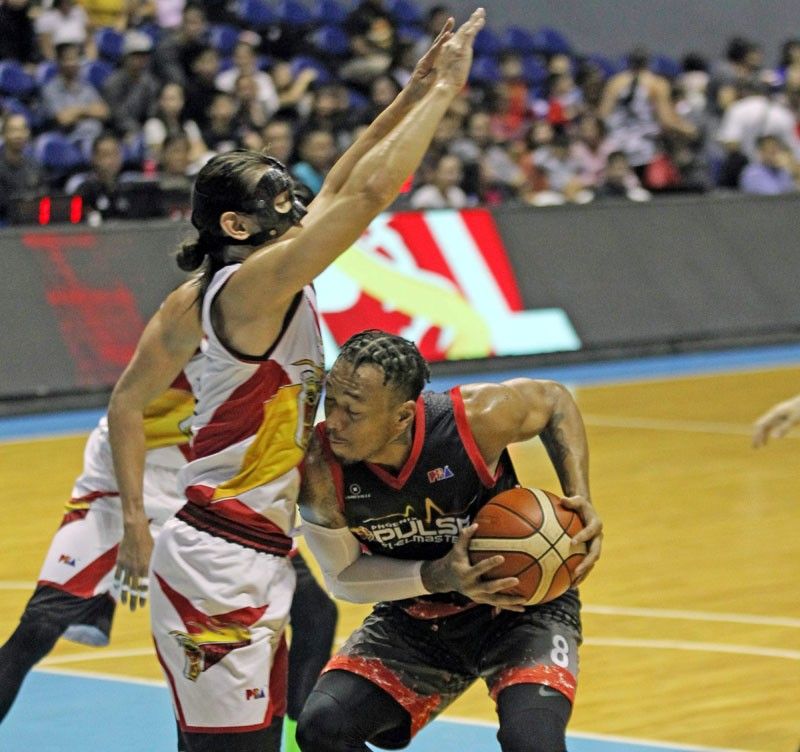 CalvinAbueva of Phoenix (right) is crowded by Alex Cabagnot of San Miguel in this bit of action last Monday.
Joey Mendoza
SMB, Phoenix in easter clash
Joey Villar
(The Philippine Star) - April 21, 2019 - 12:00am
MANILA, Philippines — Defending champion San Miguel Beer seeks to foil Phoenix Pulse's bid for a "resurrection" on Easter Sunday as they resume hostilities tonight in Game Three of the PBA Philippine Cup semis at the Smart Araneta Coliseum.
The Beermen, who overcame weary legs in taking the opener, 100-88, and the ejection of Christian Standhardinger and Fuel Masters' hot start in the second, 92-82, prior to the five-day Lenten break, aim to make it a commanding 3-0 lead against embattled Phoenix in the 6:30 p.m. encounter.
SMB coach Leo Austria, having gone through many a battle, is far from being comfortable with a 2-0 lead.
"It's far from over. (A) 2-0 (lead) is not an assurance to win a series; it happened before so many times in our case so we should prepare hard for the third game especially knowing they (Phoenix) are in a do-or-die situation," said Austria, who's also thankful of the breather after SMB's rigid five-game sched over eight days in the playoffs.
The top-seeded Fuel Masters remain defiant, especially after coming so close to beating the Beermen in the second game, if not for their sputtering endgame.
"We're going in with the same competitive mindset," said Phoenix coach Louie Alas, whose wards enjoyed a five-point upperhand early in the fourth period before Terrence Romeo and Marcio Lassiter delivered the killer blows for SMB in the windup.
"We just have to close out better. We can't afford to play 40, 42, or 47 minutes of good basketball against SMB; it's a must to play a minimum of consistent good basketball against them," he added.
Physical from the start, the SMB-Phoenix showdown is expected to get even more rugged and intense with so much on the line in Game Three.
"We expect it to still be physical," said San Miguel star June Mar Fajardo, who is relieved that Standhardinger escaped suspension after getting slapped with a flagrant foul 2 in Game Two for his kick on Calvin Abueva.
"They want to win and we want to win because if we make it 3-0, we'll boost our chances of winning the series. Phoenix is a tough team and we'll need everyone on our end to step up," he added.
Phoenix gunner Matthew Wright is adamant the 0-2 deficit is not an impossible to overcome for his talent-laden and brave teammates.
"I'm still confident with our abilities. I trust the work we've been putting on all year," said Wright, maintaining that all the Fuel Masters need is to "figure out a game plan, stick with it for four quarters and see it all the way through to the finish."
"They (SMB) are beatable; they've lost games before and we've seen it. But they're a very good team and you have to bring you're A-game to beat them," he added.