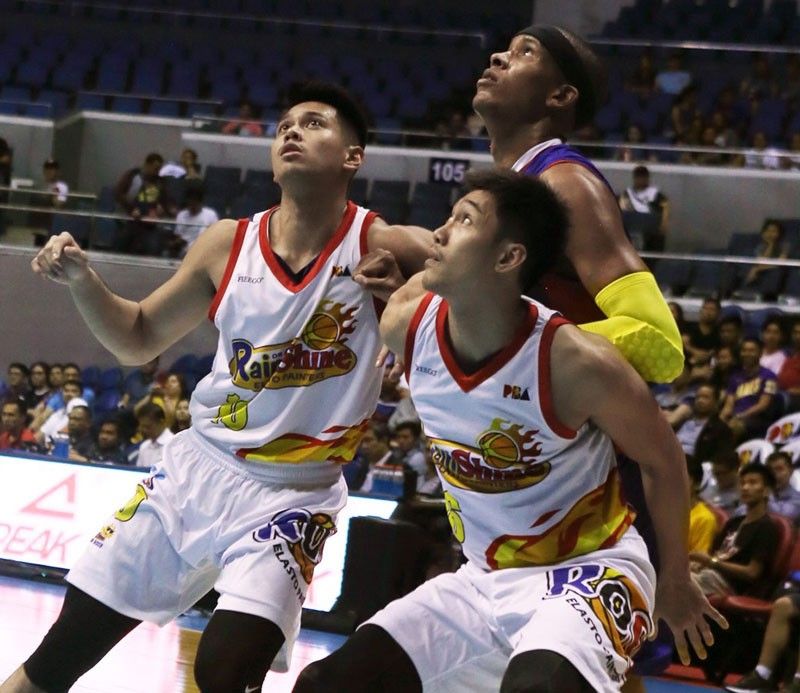 Rain or Shine's Javee Mocon, left, and Mark Borboran and Magnolia's Rafi Reavis jockey for position in a rebound play in their game Tuesday night. The Hotshots prevailed, 85-74.
Joey Mendoza
PBA protagonists recharge, reflect
Olmin Leyba
(The Philippine Star) - April 18, 2019 - 12:00am
MANILA, Philippines — The protagonists in the hard-fought PBA Philippine Cup semifinals, especially the ones that went through gruelling three-game series in the preceding quarterfinals, welcomed the five-day Lenten break as a good opportunity to recharge while reflecting on what's happening in their respective campaigns.
"We're quite drained physically and mentally so it's important to get this rest," said Magnolia coach Chito Victolero, whose weary wards had engaged Ginebra in a Last-8 duel that went the full route before taking on the second-seeded and relatively fresher Rain or Shine in the semis.
"This is especially true for those playing heavy minutes. They and us coaching staff, too, should embrace this break to refresh ourselves. We played seven games in 14 nights and it's been hard. So we really needed this," Victolero said after the Hotshots scored an 85-74 decision in Tuesday night's Game Three to make it a 2-1 contest with RoS.
Victolero intends to give his team two full days off before re-converging for practice in time for Monday's Game Four.
E-Painters counterpart Caloy Garcia set a break for yesterday and Good Friday.
"We'll have three days to prepare for Game Four," said Garcia, who remains upbeat about the E-Painters' chances.
"We're still up in the series, 2-1. I think we just have to learn from this loss (in Game Three), especially our fourth quarter performance as we only scored 11 points there. We have to be more aggressive in attacking the basket, we couldn't make the shots Tuesday but I still remain confident we're going to bounce back."
Coach Leo Austria of defending champion San Miguel likewise felt relieved that after five tough matches in one week, the tired Beermen can enjoy a breather before going for a 3-0 lead against Phoenix on Easter Sunday.
"With this five-day break, everybody can recharge, refocus and prepare," said Austria, whose team was pushed to the limit by TNT Katropa before advancing to the semis against No. 1 Phoenix.
Austria scheduled a free day on Good Friday.
"I want the team to reflect, go to Church and have some rest. We played five games in the last seven days, so we'll just have light practices," he said.
Down 0-2, the Fuel Masters will probably work the hardest during the lull, knowing the importance of Game Three.
"We still have Sunday's game, we win that game, it will be (a manageable) 2-1 (deficit)," said Phoenix ace Matthew Wright.