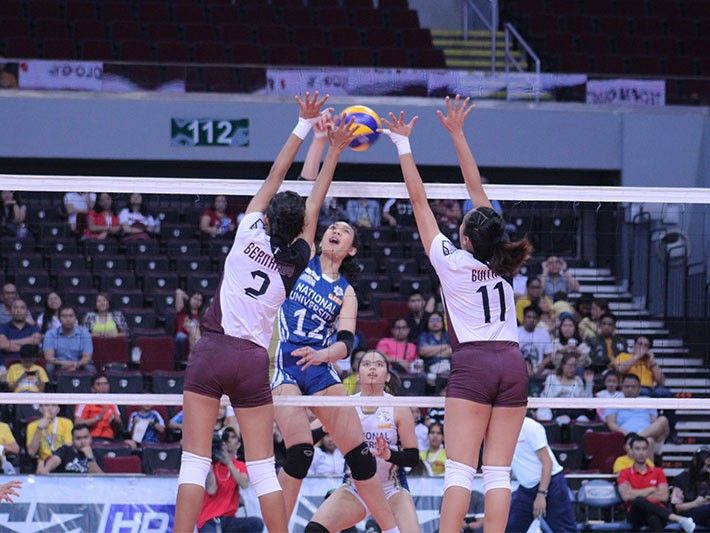 NU booted out UP out of UAAP women's volleyball Final Four contention after sending the Lady Maroons to their third straight loss.
Philstar.com/Luisa Morales
UAAP volleyball: La Salle looking good, Final 4 complete, UP's meltdown
MANILA, Philippines – There are three big storylines from the weekend volleyball matches.
The first is La Salle has seen its silver lining and that the path to a fourth straight UAAP women's crown is a little clearer and within sight. Two, the Final Four cast has been decided. And three, UP now understands NU's plight during the Santiago sisters' years in blue and gold.
Let's tackle the first.
So much for not seeing Ateneo at their best
That was what Oliver Almadro said after their season opening defeat to La Salle. The Lady Eagles rattled off 10 straight wins before falling to their nemesis in an embarrassing three sets (25-17, 25-13, 25-23).
Someone online wondered, "why embarrassing?" Well, the simple truth is you are building up to this game; a validation of your 10-game winning streak and you are swept in three sets. No one scores in double digits and there are ZERO block points.
It is one thing to lose in five sets and altogether another in three.
You could see the Lady Spikers' swag and psych-out tactics working. But why be surprised? You know this is coming and it is part of their game plan.
When the Lady Eagles lost in that first set, after Mae Luna began hitting all those shots, it gave La Salle a confidence booster — we can take these guys. And they did. One key to beating them is taking that first step and plant some doubt. Nothing happened.
The question now is to bounce back and be ready for the Final Four.
La Salle also should thank Ateneo for dispatching UP. The Fighting Lady Maroons are the only team to beat them — twice this season. But losses to Ateneo really put UP on a tailspin and out of the Final Four chase.
Having said that, it brings us to the second point.
The Final Four cast is decided
Ateneo, La Salle, UST and FEU are advancing to the next round. It is a matter of placing now. Who plays who.
UST must be happy because they won their way in and without help from other teams. Even during their tough stretch of the season, they hung tough and for the most part, played with a joy.
FEU is talented, but they are like UP — with confidence issues. Only Heather Guino-O scored in double figures with everyone else not playing well. Even UST rookie Mafe Galanza outshone FEU's Kyla Negrito, who started every set but saw her being subbed out by Gel Cayuna, who had more excellent sets than her teammate.
They want to sharpen their teeth for the playoffs? They have to bring it against La Salle in their final engagement of the elimination round.
A painful end to a promising season for UP
It is ironic that NU, the team that in most recent years had all sorts of preseason success but faltered come the UAAP, was the one to dispatch UP.
This five-set loss (21-25, 24-26, 25-17, 25-23, 15-17) to the much younger Lady Bulldogs is painful and takes some of the shine away from their preseason trophies.
Without a doubt, this UP team can compete and even win it all. I thought that this year was their best chance to win it all, but it isn't happening.
Having really followed this team through the past few years, I thought that at times, their swag was misplaced. Prior to the first round loss to Ateneo, they were pointing to spots on the floor where their shots fell or even gave stare downs. I think it is nice, but they do not have it down to a science unlike La Salle. I remember thinking, "Hmm, this is too early and misplaced." Then Ateneo took them out in embarrassing fashion and they were never the same again. Tots Carlos didn't look like the frightening power spike she was. In fact, in other games, she would be taken out and she stopped putting up big points. Their twin blockers in Marist Layug and Jessma Ramos were silent.
I really thought that Ramos was one key factor in their late Season 80 run as well as in certain spots in the preseason. Yes, Layug played well, but I always thought that Ramos could be a bigger force. Aeisha Gannaban stopped being a major contributor. And of course, there is the injury to Isa Molde (that is not and should never be an excuse because UST lost Minela Alessandrini for the entire season and possibly even longer given her being injury prone but they still played better).
More to the NU analogy. Remember that year when Dindin Santiago, Myla Pablo, and company broke into the seniors division? There was excessive swag in them as they danced, celebrated like there was no tomorrow, and talked smack to opponents. Then they fell in the Final Four to a team they beat twice in the elims and were never the same again.
While they have one more game to play before their Season 81 if officially over, the entire team from the braintrust to the players head into the off-season with questions and a need for answers. If you ask me, this is where they have to rebuild mentally and psychologically. And it won't be easy, but they need to if they want to make the final playing years of Carlos and Molde really mean something.