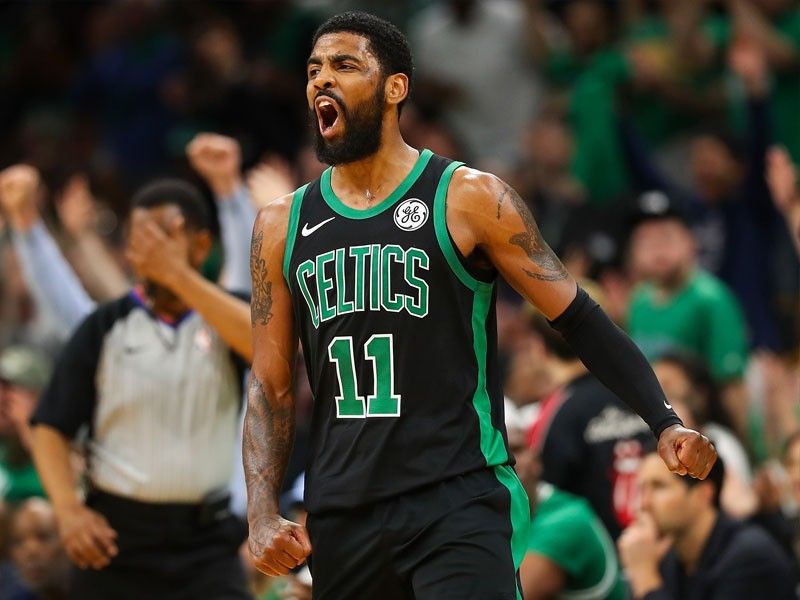 Kyrie Irving of the Boston Celtics reacts in the third quarter during Game One of the first round of the 2019 NBA Eastern Conference Playoffs against the Indiana Pacers at TD Garden on April 14, 2019 in Boston, Massachusetts.
Adam Glanzman/Getty Images/AFP
Irving, Morris fire Celtics over Pacers
(Agence France-Presse) - April 15, 2019 - 11:20am
LOS ANGELES – Kyrie Irving scored 20 points as the Boston Celtics shrugged off the injury absence of Marcus Smart to defeat the Indiana Pacers, 84-74, in their opening playoff game on Sunday (Monday Manila time).
Irving was among five players to make double figures as Boston drew first blood in the best-of-seven series opener at the TD Garden.
Boston had gone into the game reeling from news that Smart is set to miss the opening two rounds of the playoffs after suffering a torn oblique.
However the fourth-seeded Celtics had too much firepower for the fifth-ranked Pacers on their way to a deserved victory.
The decisive passage came in the third quarter, when the Celtics cut loose to outscore their opponents 26-8.
Irving finished with 20 points, five rebounds and seven assists, while Marcus Morris delivered 20 from the bench with seven rebounds.
Jayson Tatum added 15 points while Al Horford chipped in with 10 points and 11 rebounds.
Indiana, meanwhile, was largely kept quiet, with Bojan Bogdanovic restricted to 12 points. Cory Joseph added 14 from the bench.
Celtics coach Brad Stevens singled out Morris for praise following his 20-point display.
"Marcus was great," Stevens said. "We saw that coming in the last two days of practice.
"I think he probably benefited as much as anybody from being out for a couple of regular season games.
"I thought he did a really good job and we need him to. He was big and strong and rebounded the ball for us on the defensive end. He's a hard guy to guard."
Game Two in the series takes place in Indiana on Wednesday.