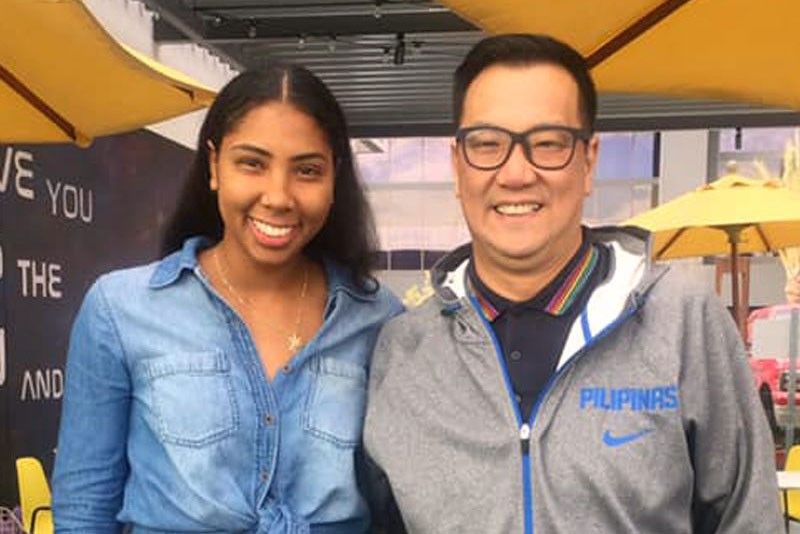 Kelli Hayes (left) with coach Pat Aquino.
Former UCLA Bruin beefs up Perlas lineup
MANILA, Philippines — With a prized find in former UCLA player Kelli Hayes, Perlas Pilipinas coach Pat Aquino is hopeful the country can finally nail the elusive women's basketball gold medal in the Southeast Asia Games.
Hayes, a 6-foot-1 Fil-Am who traces roots to Tondo, Manila from her maternal ancestry, is flying in from San Jose, California next month to join Team Phl in training in Taipei.
She just played out her collegiate eligibility with the UCLA Bruins last year where she averaged 4.6 points, 2.5 rebounds and 1.0 assist.
"Kelli was in the top five in the list of most scouted and highly recruited players in the US during her final year in high school play. She didn't turn in big numbers for UCLA as she was made a role player. But she's in the starting unit," Aquino told The STAR.
Aquino personally sought out Kelli and her mom in California.
Hayes has been issued a Philippine passport making her eligible to play for Perlas Pilipinas in the 2019 SEA Games the country is hosting in December. She will make her debut with Team Phl in the Jones Cup in July.
"She can play all positions and she can definitely provide the team tremendous boost," said Aquino.
The Philippines is the undisputed kingpin in SEAG men's basketball but has yet to rule the SEAG women's competition – not even once since the initial edition of the games in 1977. The Filipinas have had 11 podium finishes, winning the silver six times and the bronze five times.
Aquino has a number of other Fil-Am players in his radar, including Arnecia Hawkins of Arizona State, Mei-Lyn Bautista of George Washington and Gabe Bade of Sacramento State.
"Malapit ng maayos ang passport ni Hawkins. I believe she can make it to the SEA Games. Gabe Bade is a natural-born Filipina but she can't come over in December (for the SEAG) because the US collegiate play is ongoing then," said Aquino.
Gabe Bade is daughter of former San Sebastian Stag and Formula Shell player Cris.