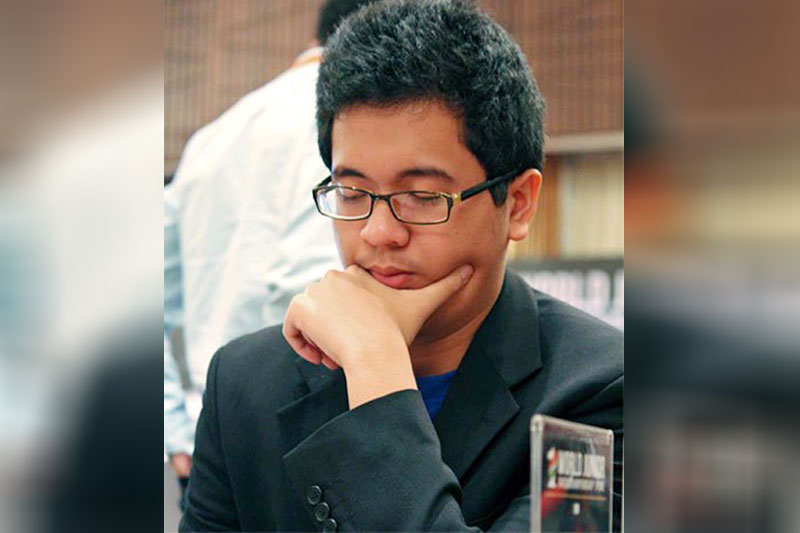 Paulo Bersamina - chessaccount.com
Bersamina stuns Mongolian GM
Joey Villar
(Agence France-Presse) - April 8, 2019 - 7:03pm

MANILA, Philippines – Filipino International Master Paulo Bersamina shocked second seed Grandmaster Tsegmed Batchuluun of Mongolia on Monday to stay on top after two rounds of the Eastern Asian Zonal 3.3 in Ulaanbaatar, Mongolia.
Bersamina, 20, came into the round coming from an emphatic victory over another Mongolian FIDE Master Erdeneurev Boldoo in the opening round Sunday night that jumpstarted his bid of qualifying to the Chess World Cup 2019 set September 9 to October 2 in Khanty-Mansiysk, Russia.
Bersamina, who already played in the Olympiad as a teenager, is eyeing his third and final norm to become a full-pledged GM and this nine-round tournament participated in by six GMs and eight IMs from 38 countries.
Another Philippine bet, GM John Paul Gomez, also hurdled his first-round assignment in countryman IM John Marvin Miciano and was playing Mongolian GM Bazar Khatanbaatar in the second round at press time seeking no less than a victory and a share of the lead with Bersamina.
The Philippines' WGM Janelle Mae Frayna and WFM Shania Mae Mendoza pulled off upset draws with third seed IM Pham Le Thao Nguyen of Vietnam and sixth pick WFM Turmunkh Munkhzul of Mongolia, respectively, in the women's division.
Frayna was battling No. 9 WGM Nguyen Thi Thanh An while Mendoza was clashing with No. 2 IM Irine Kharisma Sukandar of Indonesia in the second round at press time.
Meanwhile, Melito Ocsan, Jr. split the point with Jhoemar Mendiogarin to remain at the helm with six points after eight rounds in the premier boys' Under-18 division of the Gov. Amor Deloso National Age Group Chess Championships at the Zambales Sports Complex in Iba, Zambales Monday.
In the chase pack and half a point behind with 5.5 points were Mendiogarin and John Marx Anastacio and Jeffu Dorog, who fought to a draw.
The top three in all divisions will earn slots to the Philippine squad participating in the ASEAN Age Group Championship in Myanmar in June.