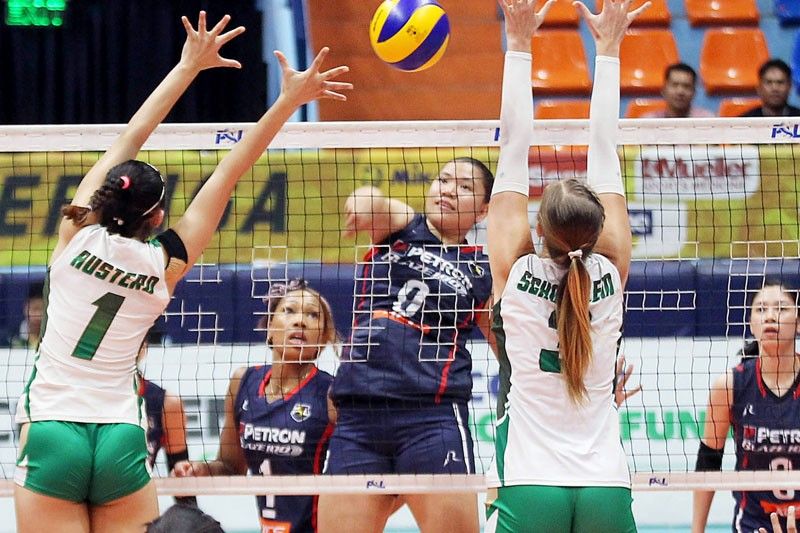 Joy Palma of Petron fires a shot that sails between the outstretched arms of Rachel Austero and Casey Schoenlein of Sta. Lucia in their Superliga Grand Prix game yesterday.
Jun Mendoza
PLDT going the distance; Petron 13-0
Olmin Leyba
(The Philippine Star) - March 29, 2019 - 12:00am
MANILA, Philippines — PLDT Home Fibr bolstered its bid for twice-to-beat advantage in the quarterfinals while Petron stormed to its 13th straight triumph after sweeping past separate opponents in the Philippine Superliga Grand Prix yesterday.
The Power Hitters hacked out a crucial 25-23, 25-16, 25-22 win over United VC in the noontime game at Filoil Flying V Center to finish the elims with 8-6 and grab third spot ahead of Cignal (7-6) and UVC (6-6).
Later, the Blaze Spikers imposed their will over Sta. Lucia, 25-21, 25-12, to go 13-0 and move one away from sweeping the preliminaries again.
The Power Hitters banked on the the solid outing of imports Kendra Dahlke (21 attacks, two blocks and an ace) and Grace Lazard (15 markers) and locals Aiko Urdas (nine points) and Jasmine Nabor (24 excellent sets and 18 digs) to score the much-needed win.
"This is a big win for us as it boosted our chance to have an advantage in the quarterfinals," said PLDT coach Roger Gorayeb, whose wards overturned a 12-17 deficit in the first set to take a 1-0 cushion and put up a wire-to-wire dominance in the next two to seal it.
"Nothing's really final yet in so far as standings are concerned but it's good that we're in a good position now," added Gorayeb, chasing one of only two quarterfinal bonuses still up for grabs.
Yasmeen Bedart Ghani (21) and Kalei Mau (18) paced UVC, which continued to miss the services of import Tai Manu-Olevao (in the US attending to personal matters).
Meanwhile, Stephanie Niemer (23) and Kath Bell (13) proved unstoppable in Petron's three-set domination of SLR, which enabled the Blaze Spikers to equal their 13-0 start in the 2018 All-Filipino Conference.
"We're happy we're able to match what we did last conference but then again we shouldn't stop here as we need to perform some more in the succeeding games," said Petron mentor Shaq delos Santos, whose squad guns for 14-0 against UVC on Saturday.
Only Casey Schoenlein managed to finish in twin digits against the Petron defense with 12.