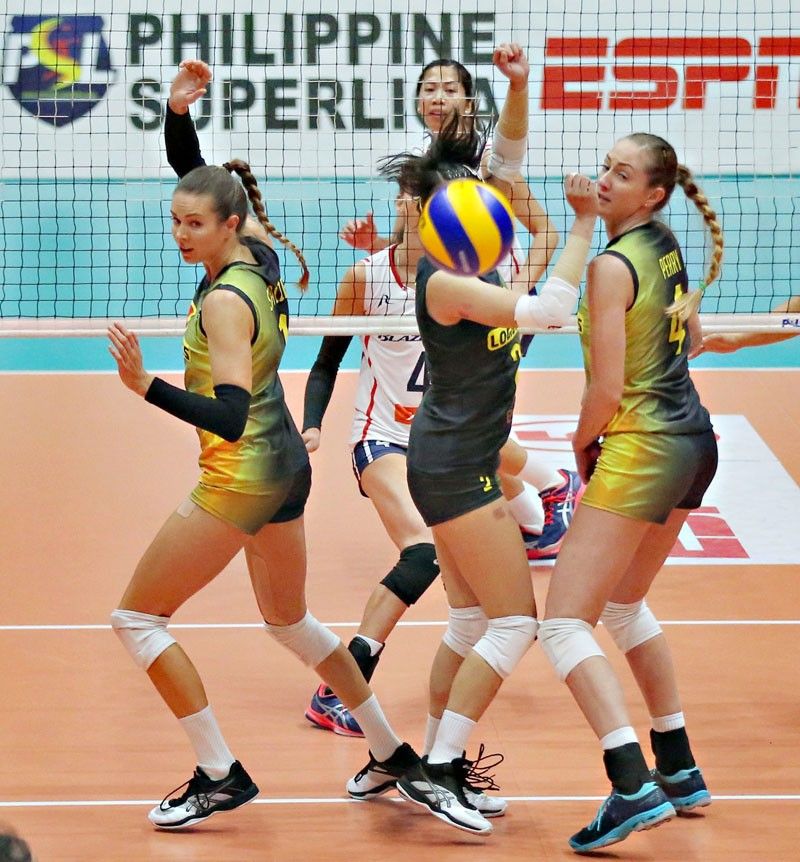 Aby Marano (middle) fails to get the ball to the other side while teammates Lindsay Stalzer (left) and Becky Perry stand by to provide support in their game against Petron yesterday. On the other side of the net is Blaze Spiker Stephanie Niemer.
Ernie Penaredondo
Stephanie Niemer- Katherine Bell Petron's power station vs F2
Olmin Leyba
(The Philippine Star) - March 25, 2019 - 12:00am
MANILA, Philippines — How do you stop a Petron team boasting of a potent mix of two first-rate imports and the reigning All- Filipino queens of the Philippine Superliga?
That's the question every other squad aches to find the answer to as they go deeper into the season-opening PSL Grand Prix.
With Katherine Bell and Stephanie Niemer catching fire with remarkable consistency and locals led by Rhea Dimaculangan, Aiza Maizo Pontillas, Mika Reyes, and Remy Palma providing steady back-up, the Blaze Spikers have romped off with 11 consecutive victories with no sign of slowing down.
Their latest victim was rival F2 Logistics, which appeared helpless defending against the hot 30-point outing of Bell and 15-point performance of Niemer in a straight set verdict, 25-14, 25-17, 25-21.
"We're very happy with our imports, they're really lifting the team," said Petron coach Shaq delos Santos of their foreign reinforcements, who outplayed their F2 counterparts Lindsay Stalzer (13) and Becky Perry (10). "One is so explosive (Bell) and another is a silent type who you know will surely score (Niemer) and they always deliver."
Reyes and Pontillas complemented the duo with six markers apiece while Dimaculangan had 22 excellent sets and 13 digs in their latest conquest, where the Blaze Spikers scored a whopping 13 aces and 59 digs and 20 more attacks than F2.
Delos Santos said the challenge is to get the local stars on board in this import-dominated campaign.
"We're always reminding them of quality of play inasmuch as they get limited balls. We're asking them to give us quality in terms of blocking, defending, serving, etc. and whatever point they could share should be of quality," he said.
The Blaze Spikers stormed to a 17-8 margin to get a one- set headstart then clawed back from a 9-13 deficit and stole the second frame from F2.
"Even though it ended in straight sets, it was such an intense game, you know how F2 plays," said the Petron mentor.