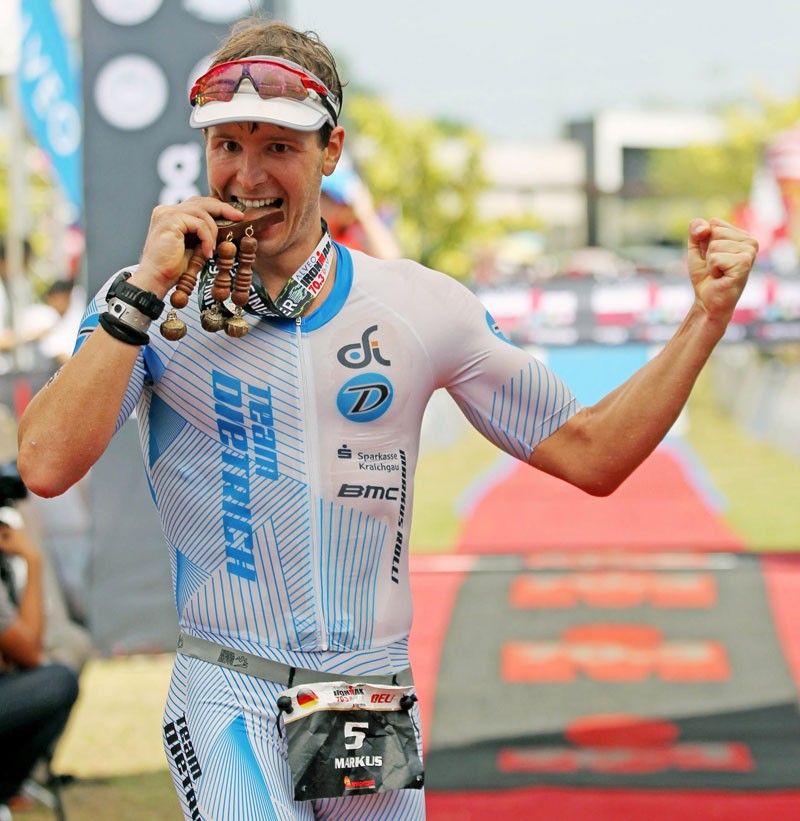 Markus Rolli of Germany.
Jun Mendoza
German rolls to victory; Kahlefeldt keeps crown
(The Philippine Star) - March 25, 2019 - 12:00am
MANILA, Philippines — Markus Rolli of Germany flashed his superb biking skills and ran away with the men's pro crown despite a struggle in the closing run stage while Czech Radka Kahlefeldt outlasted Swiss Caroline Steffen in a duel of super moms to retain her crown in the Alveo Ironman Davao 70.3 presented by Petron at the Azuela Cove yesterday.
Rolli turned in an impressive 2:00:50 clocking in the bike stage to build a huge eight-minute lead over veteran Craig Alexander then endured pain in his sore legs in the run part to clinch the victory in 3:49:29 over the 1.9k-90k-21k race. The 27-year-old ace also topped the opening swim leg in 23:22 then timed 1:22.19 in the run.
Alexander, a former five-time world champion from Australia, took runner-up honors in 3:52:21 while multi-titled Tim Reed, also from Down Under, checked in third in 3:57:18.
"I was first in the bike and I just pushed hard and broke away from everyone. I've been training during the winter in Germany so it's a little bit different here," said Rolli, who joined the pros only in 2017 and won his first 70.3 in Thailand, where he also based his camp in the run-up to the second Mindanao staging of the event organized and conducted by Sunrise Events, Inc.
In contrast, Kahlefeldt and Steffen slugged it out in the swim and bike stages where they submitted almost the same clockings. But the former, who reigned last year just 11 weeks after giving birth to her first child, showed her staying power to stay as Ironman Davao queen with a 4:16:52 effort.