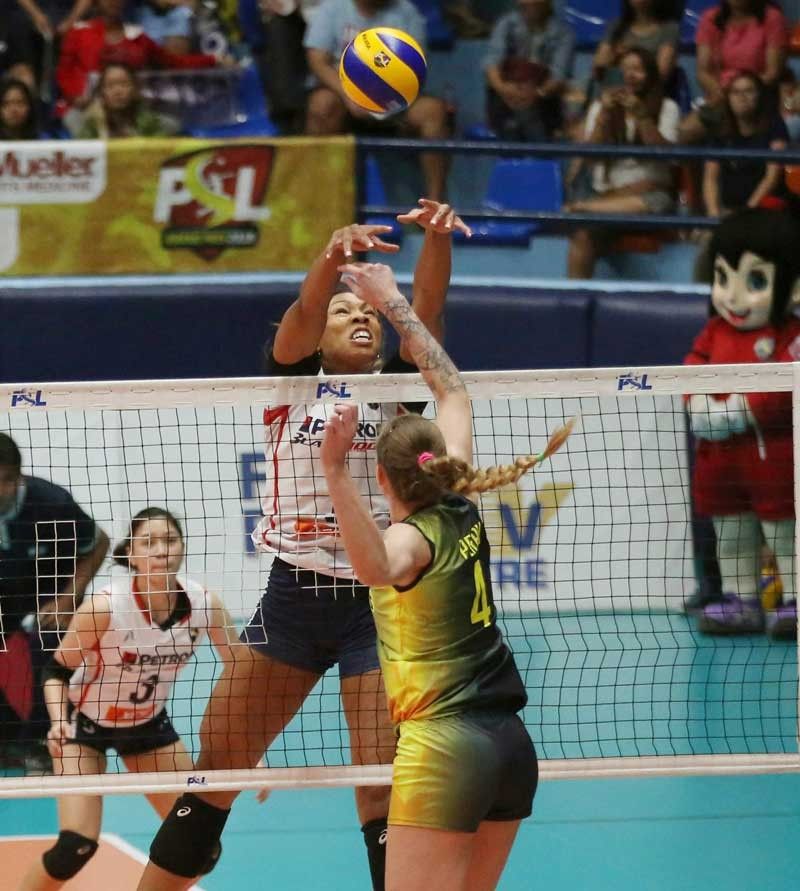 Kathtrine Bell of Petron shows her enormous form as she battles Rebbeca Diane Perry (4) of F2 Logistics in a showdown of top teams in the Super Liga Grand Prix yesterday.
Ernie Peñaredondo
Petron overhauls F2 Logistics
Olmin Leyba
(The Philippine Star) - March 24, 2019 - 12:00am
Games Tuesday: (Filoil Flying V Center)
LIVE ON ESPN5
2 p.m. - Generika-Ayala vs Petron
4:15 p.m. - Cignal vs PLDT
6 p.m. - Foton vs United VC
MANILA, Philippines — Katherine Bell exploded for 30 points to power rampaging Petron to victory over rival F2 Logistics in three, 25-14, 25-17, 25-21, last night in the Philippine Superliga Grand Prix at Filoil Flying V Center.
Bell was on fire in every scoring deparment, making 25 attacks, two blocks and three aces as she sparked the Blaze Spikers' fiery performance that fuelled their dirve to their 11th straight win.
Stephanie Niemer delivered 15 markers and Aiza Maizo Pontillas and Mika Reyes contributed six apiece to help Petron reassert its mastery over the Cargo Movers, who suffered their third loss in 11 outings.
Petron's defense held Lindsay Stalzer to only 13 and Becky Perry to 10.
In the first game, rejuvenated Generika-Ayala stretched its win run to three as it scored a vengeful 25-20, 25-20, 21-25, 25-18 disposal of first-round tormentor Sta. Lucia Realty.
Kanjana Kuthaison dropped 24 points while Kseniya Kocygit added 16 and Angeli Araneta (nine), Fiola Ceballos (eight) and reliever Marlyn Llagoso (seven) provided steady local back-up as the Lifesavers bucked the absence of middle blocker Ria Meneses in avenging their five-set defeat to SLR on opening day and improving to 4-7 overall.
"We lost to Sta. Lucia in the first round so everyone was determined to win today despite our lack of personnel and played well," said Generika coach Sherwin Meneses, referring to Meneses, who's out for a week after spraining her ankle in Generika's dramatic five-set comeback victory over United Volleyball Club last Thursday.
"Ria's absence leaves a big hole but Marlyn (Llagoso) did okay in her position," added Meneses.
Llagoso did her part as Generika took an early 13-8 lead to pave the way for the first-set round and then the Lifesavers unleashed a strong finishing kick after trailing 13-15 to win the second as well.
The Lifesavers just couldn't get the job done in the third against the resilient Lady Realtors but in the fourth, Araneta provided the leadership and points to help them race to a 9-3 cushion.
Jamie Lavitoria tossed 38 excellent hits for the victors while Bia General anchored the floor defense with 26 digs and 12 receptions.
Casey Schoenlein was the only double digit scorer with 22 for SLR, which dropped to 2-9.