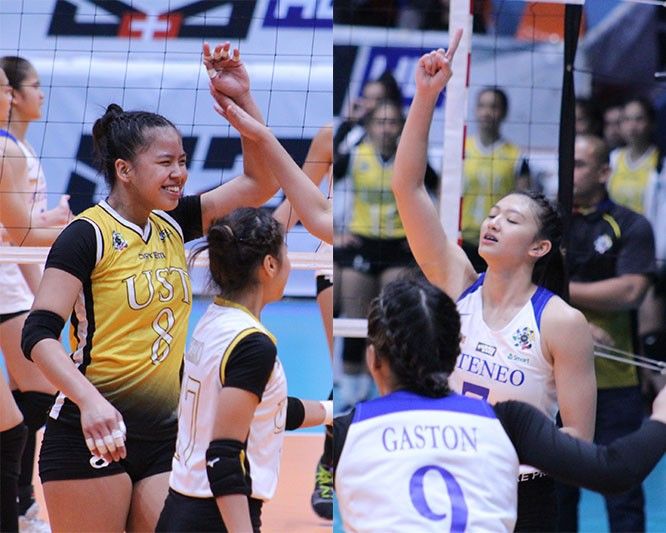 UST's Eya Laure and Ateneo's Maddie Madayag
Philstar.com/Luisa Morales
UAAP Women's Volleyball: Ateneo's resolve; UST's potential
MANILA, Philippines – Last Wednesday's UAAP women's volleyball match between the Ateneo Lady Eagles and the UST Golden Tigresses was thrilling and heart-stopping. It was perhaps one of the best all season long.
While it ended up as a five-set win for Ateneo (19-25, 22-25, 27-25, 25-22, 15-11), it does show how far UST has come after years of frustration.

Ateneo's resiliency
Two sets down and the Lady Eagles come back. UST was pounding on them and they were looking to sweep Ateneo and get back for that first round loss. But the tide turned when Ateneo's defense settled down and libero Dani Ravena came in.
Usually, teams expend a lot of energy fighting back that they are spent by the fifth set. Not so with Ateneo. UST led in the final set, but they came back once more showing their backbone and resolve. While they led by two, they were aided by two late Sisi Rondina errors that closed out the match.
I recall during the second year of Oliver Almadro's first stint with the Ateneo men's volleyball team, the Blue Eagles lost four of their first five matches in five sets. A couple of them, including one against eventual champion UST, saw them lead 2-0 before falling in the last three. That ultimately saw the team unravel and fall into disarray — one that would not be corrected until about four or five years later.
This is a character-building win for the Lady Eagles. No one expected them to lead the league, but here they are.
Maddie Madayag was sensational — 23 points and 11 block points (for a record). But the team effort has to be lauded as nine of the 11 players sent in contributed for points (while the others did their part on defense and playmaking).
And Ravena came up huge. You have to admire her transition from setter to libero and doing a good job at that.
UST's potential
You have to feel for the Golden Tigresses. Short-handed as they were, they were plenty tough. Sisi Rondina and Eya Laure are a frightening 1-2 punch. But if Dimdim Pacres can be more consistent (you can't blame her as Madayag really had her number that game), they will go deep in the tournament. And yet, imagine if Milena Alessandrini were here for coach Kung-Fu Reyes.
I like what KC Galdones, Janel Delerio and Mafe Galanza are showing. Great stuff. They will only get better.
I also have to laud UST coach Kung-Fu Reyes. I have admired what he has done for UST. It has been for the most part frustrating, but his coaching has been spot on. He knows when to encourage, when to push some buttons, and when to read the riot act. He might have not gotten the result he wanted and it might sound hollow, but hats off to UST.
Good luck the rest of the way!