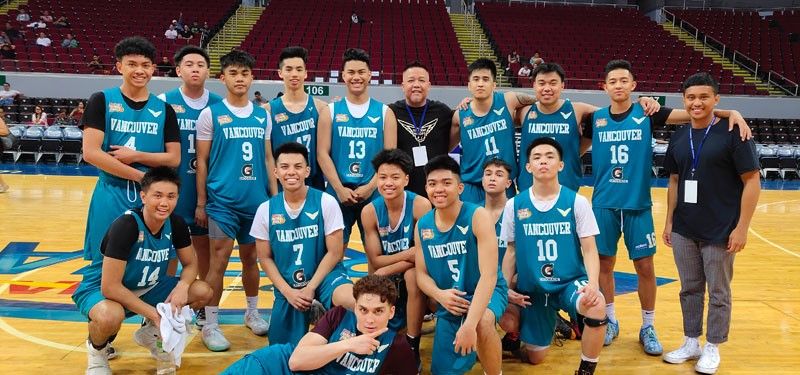 Head coach Nap Santos (sixth from top left) and the Top Flight Vancouver squad
Vancouver's Nap Santos helping kababayans live their hoop dreams
MANILA, Philippines – "Don't back down, Kit," exhorted Top Flight Vancouver head coach Nap Santos from across the court to his main man during their Division II quarterfinals match against La Salle Greenhills. "It's all part of the game."
Santos' team from North America, taking part in its maiden year in the Chooks to Go NBTC National Finals fell 99-69, but it does not detract one iota from the collective experience.
"The kids love it," enthused Santos. "They know each other in varying degrees back in Vancouver; some more than the others, but here, they have been inseparable. The eat lunch and dinner together. They go to the mall together. They watch basketball together. We have nothing like this back home, and we've heard nothing but good things from everyone all around."
And that is exactly the experience Santos wanted to provide his kababayans back in British Columbia. His family migrated to Canada when Santos was only three years old. After finishing his high schooling there, he made the decision to come back home and give his basketball dream a shot.
"Back in 1993-96, I played for Letran College (with Willie Miller and Chris Calaguio as his teammates) under coach Rudy Hines," related Santos. "I came in after Letran won the championship and even if we didn't win, it was a great experience for me. In fact, it has stayed with me up to this day which is why I do this."
Doing this comes in the form of Dream Hoops Academy in Vancouver, which teaches and organizes leagues for Filipino communities in their area. Santos went back to Canada upon graduation from college, but his basketball itch hasn't been fully scratched. "I love the game and it has been good to me. Dream Hoops Academy is a form of giving back and helping out. Unfortunately, only a select few Filipinos get chosen for secondary school teams which is why I have Dream Hoops Academy which I have been doing for 20 years now, and we are participating here in the NBTC."
"I showed them the video Coach Eric (Altamirano, NBTC founder) showed me and they went, 'wow!' We came down here not knowing what to expect. And yet, the experience has exceeded everyone's expectations."
"All I did was post a notice for tryouts and about 30 kids who came to the tryouts. There are more. Some should have — including a pair of 6'6" kids — but couldn't for different reasons. But this is an eye opener."
The same can be said for the folks watching back in Canada. "A lot of people have been watching the livestream broadcasts of our games and the effect is tremendous on the Filipino community. Hopefully, if and when we return, we will have more support, and put up a more competitive team."
Thus far, some of the Top Flight Vancouver players have received interest from Manila schools. That includes their small forward-turned-instant-center Kit Mramor because he is by default, the tallest player here for Santos. Angelo Santos and long-range sniper Jerric Palma have also received inquiries about playing here.
"And that is what is all about," summed up Santos. "I had the great opportunity coming back here to play, and now to coach, and if I can help other Fil-Canadians experience the same, then it's a dream come true for all of us."
Top Flight Vancouver is composed of Santos, Kit Mramor, Jerric Palma, Jason Tantengco, Angelo Santiago, Alek Pineda, Derick Gonzales, Kris Galindez, Japen De Leon, Dencel Mondragon, Curtis Laigo, Angelo Mangune, Leiron Dionco, Payja Santos, Jay Esquivel and Cairo Almarez.