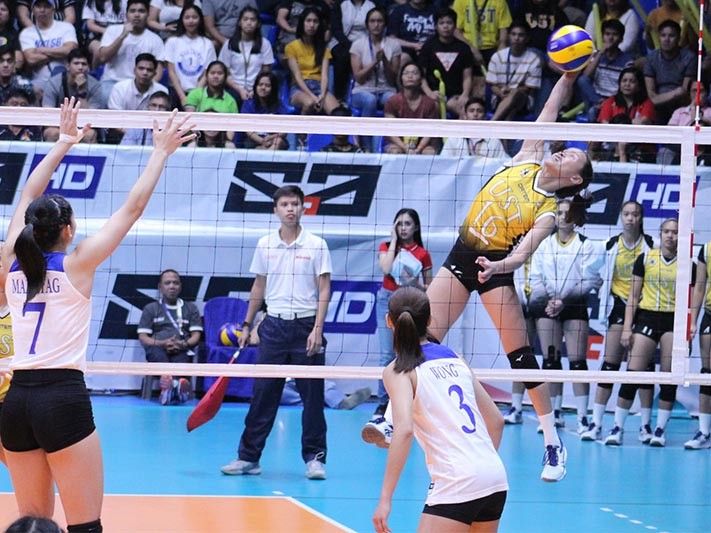 UST's Sisi Rondina finished the game with a career-high 35 points in the Golden Tigresses' losing effort against Ateneo
Philstar.com/Luisa Morales
Ateneo coach hails UST for gritty challenge
MANILA, Philippines — Before their second round meeting, both Ateneo and UST were on active win streaks.
The Lady Eagles finished the first round with a 6-1 record, winning six straight after an opening day loss to defending champion DLSU.
UST was close behind with a 5-2 record, with three straight victories under its belt.
It was only expected that their clash would be an exciting match-up, and indeed it was.
Career-highs were made and records broken during the battle between the Lady Eagles and the Tigresses.
Despite coming away with the win, Ateneo couldn't help but applaud their opponents for the tough match up that could've gone either way.
"UST really came today. That's all I can say," Ateneo head coach Oliver Almadro said.
"I really give this game to UST also... it just so happens na breaks of the game in the end, nagfavor sa amin," he said.
Maddie Madayag had a monster game on defense Wednesday, registering 11 block points -- a new league record for most blocks in a single game since the Final Four era.
Pacing her team out of a two-set deficit in the match, Madayag and the Lady Eagles grinded out each point with their backs against the wall.
"Sobrang pinaghirapan lang talaga namin... nothing ever comes easy," Madayag said.
It was apparent for Ateneo how difficult it was to get the win with the UST offense proving to be a problem.
UST's high-flying Sisi Rondina notched a career-high 35 points in their losing effort against the Lady Eagles.
"Sisi's a really good player, she's very good," Madayag said.
"You really have to respect your opponent," she added.
Ateneo continues their winning ways to protect their hold on the number one spot with a 7-1 record.
Meanwhile, UST's three-game win streak ended, and the España-based squad dropped to 5-3.