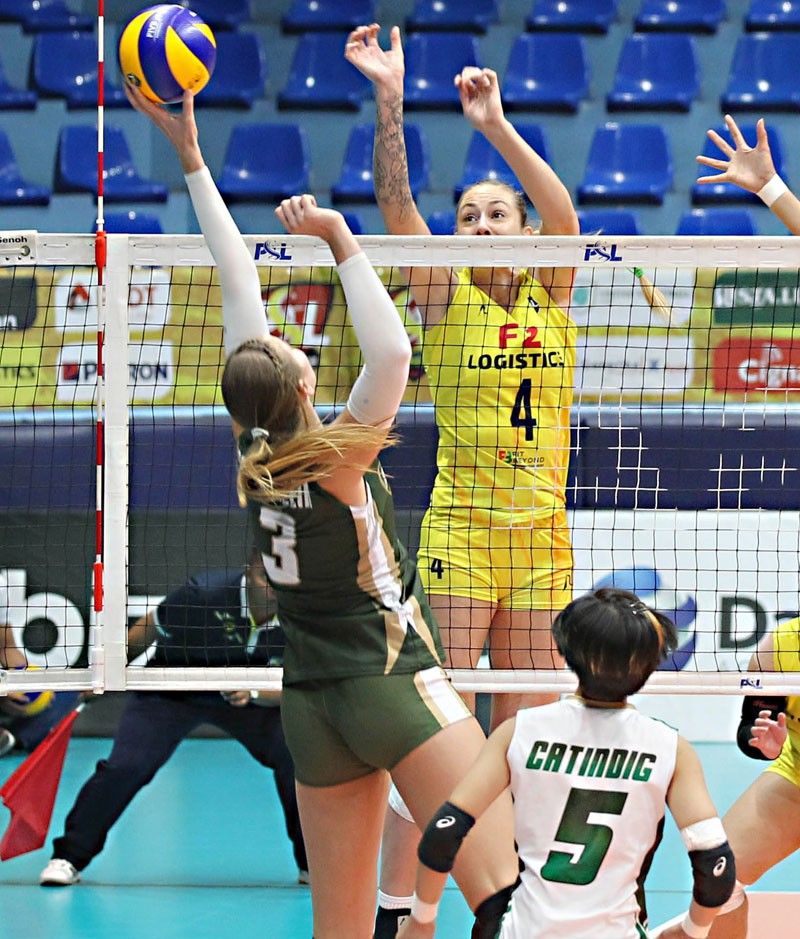 Sta. Lucia import Casey Schoenlein tries to score against F2 Logistics' Rebecca Per- ry in a Super Liga match Tuesday. At right is Juliet Catindig.
Jun Mendoza
F2 Logistics bounces back, solidifies post at 2nd in SLiga
Olmin Leyba
(The Philippine Star) - March 21, 2019 - 12:00am
Games today (Filoil Flying V Center)LIVE ON ESPN5 and 5PLUS
2 p.m. – United VC vs Generika-Ayala
4:15 p.m. – Foton vs Cignal
7 p.m. – Sta. Lucia vs PLDT
MANILA, Philippines — F2 Logistics wasted little time atoning for its unexpected setback to PLDT three days back, running away with a 25-23, 25-14, 25-16 bounce back at the expense of Sta. Lucia Tuesday night to tighten its grip on second spot in the Philippine Superliga Grand Prix.
Becky Perry and Lindsay Stalzer delivered identical 17-point performances while Aby Maraño and Majoy Baron added nine and seven, respectively, as the Cargo Movers got back on track and improved to 8-2, virtually assuring themselves of twice-to-beat incentive in the quaterfinals.
"I think there was a hard lesson for us to learn last Saturday when we lost to PLDT. We were super serious and we kind of know part of our identity is when we're having fun, we play well," said Perry, who was also battling stomach virus in that weekend outing.
"Last Saturday, we were too serious, I wasn't feeling well and not able to bring that energy to the team so that's the thing we need to remember and fix tonight – try to have fun and the rest will take care of itself," she added.
F2's victory over Sta. Lucia (2-7) gave it a boost ahead of its rivaly matchup with unbeaten leader Petron (10-0) on Saturday.
Meanwhile, the teams trailing the Top 2 seek to boost their respective bids in today's triple header at Filoil.
United Volleyball Club (5-4) guns for its sixth victory against Generika-Ayala (2-7) at 2 p.m. followed by the duel between Cignal (5-6) and Foton (1-8) at 4:15 p.m. and the clash between PLDT (6-5) and Sta. Lucia (2-7) at 7 p.m.
"Generika Ayala is a very hungry team. They had some good games and they just got out of the slump. We have to give our best because winning over them takes a lot," said UVC coach Joshua Ylaya.
UVC anchors its bid on Fil-Ams Kalei Mau and Alohi Hardy-Robins and imports Tai Manu Olevao and Yaasmeen Bedart-Ghani, who were all on point in their their four-set win over the HD Spikers Tuesday.