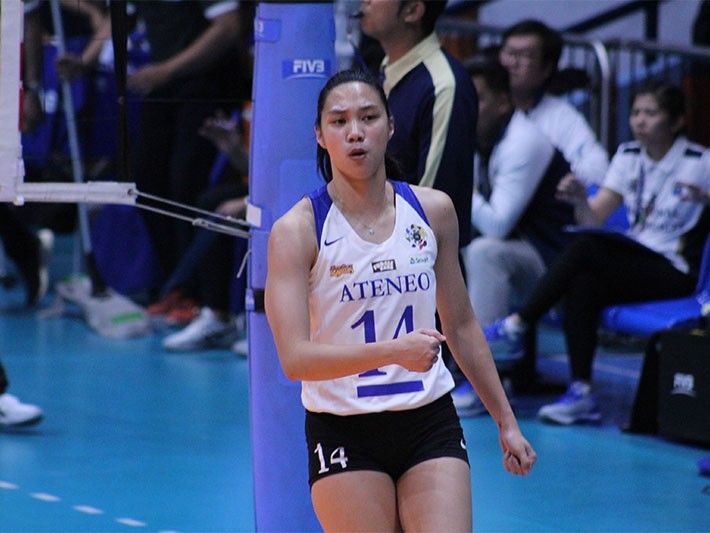 Ateneo's Bea de Leon finished with 13 points.
Philstar.com/Luisa Morales
Lady Eagles buck poor start, repel pesky Lady Bulldogs
SAN JUAN, Philippines — Despite an error-prone opening set, the Ateneo Lady Eagles weathered the upset-seeking NU Lady Bulldogs in four sets, 23-25, 25-17, 25-23, 25-17, for their sixth win of the 81st UAAP women's volleyball competition at the FilOil Flying V Centre on Saturday.
Ateneo finishes the first round with a 6-1 record, good enough to hold on for the top spot in the rankings.
The Lady Eagles started the game sloppy, with multiple errors keeping NU afloat in the opening set.
Ateneo held the lead in the middle of the set, 17-13.
But NU went on an unanswered 5-0 run, including two errors from the side of the Lady Eagles to take the lead, 18-17.
Both squads went back-and-forth but NU was able to strike first, 25-23.
Dropping the first set seemed to be a wake-up call for the Lady Eagles. Come the second set, the Katipunan-based volleybelles cleaned up their game.
With a well-balanced offensive output, Ateneo cruised in the second to get one back, 25-17.
It was a more tightly fought game come the third set.
The Lady Eagles were able to get breathing room, 20-16, courtesy of explosive offense from Maddie Madayag.
Eager to stun the Lady Eagles one again, NU clawed back into the set. Relying on the offense of Cess Robles and Ivy Lacsina, they slashed the lead to one, 23-24.
But the NU comeback fell short after a Madayag kill ended the set in Ateneo's favor.
In the fourth set, Ateneo was determined to close out the Legarda-based squad. The Lady Eagles held a comfortable cushion, 14-8.
But the Lady Bulldogs just wouldn't let up and kept on pestering Ateneo.
Once again taking advantage of errors from the Lady Eagles, NU was suddenly breathing down Ateneo's necks, 14-16.
Forcing a fifth set was not unlikely for the Lady Bulldogs.
But Ateneo skipper Bea de Leon had other plans. The veteran Lady Eagle took the reins for her team, sparking a personal 3-0 run to bring the momentum back to Ateneo.
Costly errors from the NU side eventually dwindled their chances as Ateneo took the win, 25-17.
Ateneo's twin towers Madayag and de Leon paced the Lady Eagles with 17 and 13 points, respectively.
Meanwhile, Robles led the Bulldogs with 18 points. Lacsina chipped in 11.
The Lady Bulldogs finish the first round with a 2-5 record.