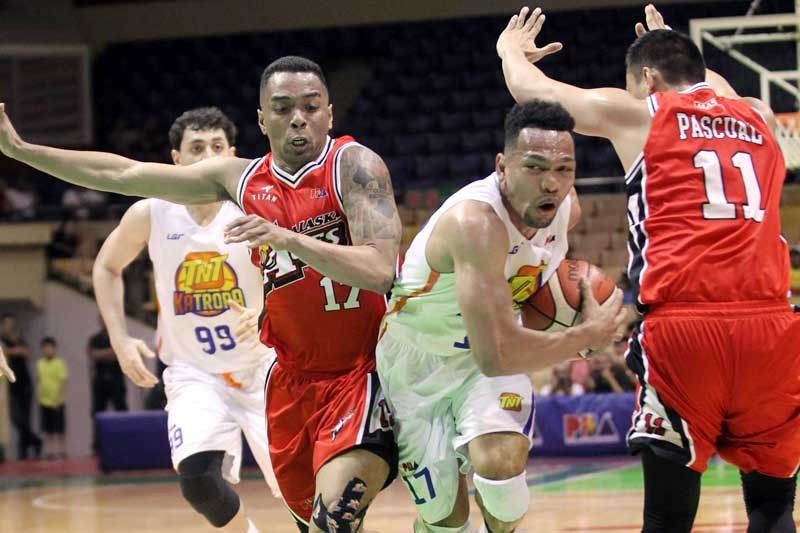 TNT KaTropa 's Jayson Castro squeezes his way between Chris Exciminiano (left) and Jake Pascual of Alaska in last night's game at the Astrodome.
Jun Mendoza
Texters slam Aces, firm up bid
Game today (Panabo, Davao del Norte)
5 p.m. – Phoenix Pulse vs San Miguel
MANILA, Philippines — The TNT KaTropa gunners stayed on target, hitting one clutch trey after another as they smothered the Alaska Milk Aces, 92-78, to remain in the thick of the fight for Top Two in the PBA Philippine Cup eliminations at the Cuneta Astrodome last night.
Roger Pogoy played limited minutes because of early fouls and a slight injury, but he was deadly when he was on the floor, firing away 5-of-7 three-pointers to highlight a 24-point game also laced by three rebounds and three assists.
Troy Rosario, Ryan Reyes and Tony Semerad also waxed hot from afar, combining for seven treys to help the Texters stretch their streak to four games that enabled them to catch up with the San Miguel Beermen at third place at 6-3.
So hot have been the KaTropa as they've actually won six of their last seven outings.
"We like what we're doing now, and we hope to continue to get going. And hopefully, we improve even more," said TNT coach Bong Ravena.
The KaTropa could have a good shot at a Top Two finish and its twice-to-beat reward in the quarters if they win their two more remaining games against Columbian Dyip and NorthPort.
Meanwhile, Phoenix Pulse, stopped by Barangay Ginebra the last time out, takes another shot at claiming top honors in the elims as it tangles with San Miguel in a crucial Petron Blaze Saturday Special in Panabo, Davao del Norte.
The Fuel Masters and the Beermen clash at 5 p.m. with the latter, for their part, seeking to sustain the momentum of their own romp to stay in the fight for the Top Two.
Alaska is now in a precarious position after suffering a third straight loss and its fifth in eight games in all.
The KaTropa imposed their will early against the badly crippled Alaska team, taking the opening period at 23-15 and dictating the tempo all the way to the finish.
As he got hurt a bit on a bad landing with 8:44 left to play, Pogoy headed to the bench and never returned. But there's still no stopping the KaTropa from completing a big rout of the Aces.
They led by as many as 20 points before wrapping up the win.
For the Aces, it's another blowout loss after dropping four previous matches by a whopping average margin of 16.3 points.
The absence of injury-hit players Vic Manuel, Jvee Casio and Kevin Racal hurt the Aces badly.
Later in the night, Rain or Shine put itself in a favorable position to finish in the Top Two as it outlasted Meralco, 88-85, for an 8-3 closing card in the elims.
The Bolts, meanwhile, found themselves in a deeper bind as they dropped to 10th place at 3-6.
NOTES: Harvey Carey played his career game No. 701 with TNT KaTropa last night. On Saturday at the Ynares-Antipolo, Carey became the 26th PBA player to have played at least 700 games. But the Fil-Am forward, the No. 4 pick in the 2003 draft, was only the third to see action in those games with just one ball club, matching the feats of Alvin Patrimonio (Purefoods) and Mark Caguioa (Ginebra).
The scores:
First Game
TNT 92 – Pogoy 24, Rosario 15, Heruela 8, Castro 8, Semerad 8, Cruz 6, Trollano 4, Washington 2, Williams 1, Miranda 0, Casino 0, Bono 0.
Alaska 78 – Cruz 19, Thoss 13, Enciso 12, Banchero 12, Teng 9, Ayaay 6, Pascual 5, Exciminiano 2, Baclao 0, Galliguez 0, Potts 0.
Quarterscores: 23-15, 47-38, 74-62, 92-78
Second Game
Rain or Shine 88 – Yap 14, Daquioag 12, Ahanmisi 10, Mocon 10, Torres 9, Rosales 8, Nambatac 7, Borboran 6, Norwood 5, Belga 4, Ponferada 3.
Meralco 85 – Salva 18, Hugnatan 16, Faundo 10, Amer 10, Hodge 8, Newsome 7, Canaleta 7, Jackson 7, Quinto 2, Pinto 0, Tolomia 0.
Quarterscores: 20-26, 44-35, 66-65, 88-85