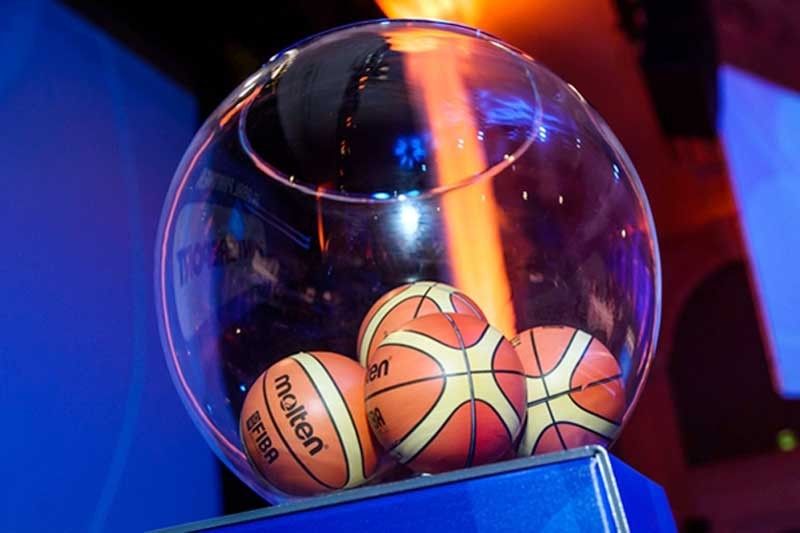 One team Guiao said he wouldn't like to be in the same group with is No. 1 US. "Kahit tsamba, wala tayong panalo sa US," he said. "I don't know kung kaya natin dikitan, malamang hindi.
FIBA Photo
Guiao careful not to wish in FIBA draw
MANILA, Philippines — Gilas head coach Yeng Guiao is careful what he wishes for and won't name with which countries he'd like to be in the same bracket in the first round of eliminations at the FIBA World Cup in China on Aug. 31-Sept. 15. He's anxiously awaiting the outcome of the draw in Shenzhen tonight to determine which of the eight groups the 32 countries will be situated.
One team Guiao said he wouldn't like to be in the same group with is No. 1 US. "Kahit tsamba, wala tayong panalo sa US," he said. "I don't know kung kaya natin dikitan, malamang hindi. I would rather play against teams where we have a chance to score an upset or stay close. Against the US, it'll be like just waiting for the final score. But if ever, it'll still be a great opportunity to play against the best in the world. It'll be a privilege and honor. We won't complain. We'll accept whatever comes our way."
Guiao said China and the top seven rated countries will head each of the eight groups in the first round. The seeded teams are host China, No. 1 US, No. 2 Spain, No. 3 France, No. 4 Serbia, No. 5 Argentina, No. 6 Lithuania and No. 8 Greece. "If you take it by continent, maybe we'll have a better chance to win against a team from Africa instead of from Europe or the Americas," he said. "In Spain four years ago, we won over Senegal. We played some close games in Spain. I don't think they were ready for our style of play. This time, I think we'll be well-scouted. Everyone knows about the Philippines now, especially because of Andray (Blatche)."
Guiao said even a debuting team like Montenegro will be hard to defeat. Two Montenegrin players in the NBA are Swiss-born Nikola Vucevic of the Orlando Magic and Nikola Mirotic of the Milwaukee Bucks.
"Honestly, I don't have a preference as to which teams to play in the first round," he said. "Let's wait for the draw. One of my goals in the World Cup is to gauge where we are in terms of high-caliber competition, how far or how close we are to the best, what we need to do to get closer to the top, what kind of players we need to develop and who they are. We're hosting the World Cup in 2023 and we'd like to set a program to build our team to be more competitive by then."
Guiao said he hopes that within the next two weeks after the draw, a plan of action will be formulated and agreed on by the SBP and PBA. "The execution will be two to three months before the actual World Cup," he said. "As soon as the draw is finished, we should discuss how soon the PBA is able to release players for the training pool, how soon we can bring in Andray, what tune-up games we can schedule to simulate the level of competition in China. After the draw, we'll have a read of the opposition in the first round so we can start to prepare scouting, training and playing tune-ups."
Asked to comment on Blatche's prediction that with Jordan Clarkson, the Philippines could go all the way to the Final Four, Guiao said he's not in a position to agree or disagree. "Andray's been to the World Cup and I haven't so he would be in a better position to make an analysis," he said. "My plan is to bring in a big lineup and hopefully, Jordan will be in our team. I don't know if we'll make it to the semis but with Jordan in our lineup, we'll have a better chance to advance to the second round for sure."
Guiao said Clarkson could play one or two, Gabe Norwood two or three, Troy Rosario three, Japeth Aguilar three or four, Blatche four or five and Marcio Lassiter two with JuneMar Fajardo backing up the nine-year NBA veteran at five. Nothing is final on Clarkson's inclusion as the SBP is still appealing for his recognition as a local because of heritage and Philippine laws.
Clarkson has publicly said he's hoping for a chance to play with Gilas in the World Cup. Last Tuesday, he celebrated the first-ever Filipino Heritage Night in Cleveland and scored 14 points in the Cavs' 126-101 win over the Toronto Raptors. Guiao is the only Filipino who has coached both Blatche and Clarkson in international competitions. Blatche played under Guiao in the recent sixth window of the FIBA Asia/Oceania World Cup Qualifiers while Clarkson saw action at the Asian Games last year.