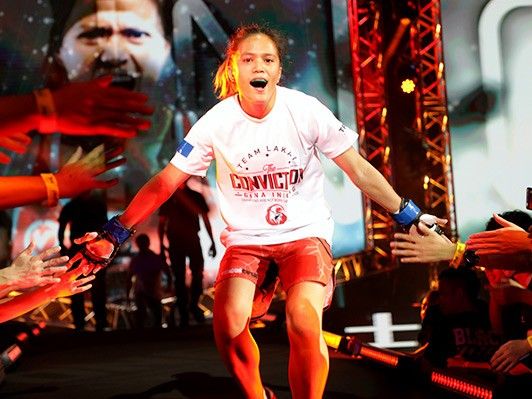 Team Lakay's Gina Iniong is one of the household names of MMA in the Philippines
Photo courtesy of ONE Championship
#PlayLikeAGirl: Gina Iniong conquers mountains in MMA
MANILA, Philippines – Gina "Conviction" Iniong always rises up to the challenge, in and out of the cage.
Coming from humble beginnings in Baguio City, the Filipina fighter has become one of MMA's household names in the country.
Iniong, who trains with the prestigious Team Lakay, is well on her way to become a champion herself. But the journey was never a walk in the park.
"Being where I am right now is not easy, I had to overcome a lot of adversities," Iniong said in an online interview with Philstar.com.
"I had to train and work hard everyday so now that I am beginning to see the fruits of my labor, [and] my team's as well, I am very happy," she added.
The Filipina is fresh from a victory over Malaysian Jihin "Shadowcat" Radzuan, grinding out a split-decision win during ONE: Clash of Legends in Bangkok earlier this year.
But Iniong had seen her fair share of defeats – which never left her empty-handed.
"I also had some difficult fights that I learned some hard and painful lessons from," she continued.
"I don't regret any of these because all these challenges have molded me to be the fighter that I am right now," Iniong said.
An MMA fighter competes in a cage alone with only her opponent to face during the action, but Iniong knows her Team Lakay is always on her side.
"We are like a family – with Coach Mark (Sangiao) as our father, and my teammates as my brothers and sisters. The journey of one is the journey of all," Iniong said.
Despite the adversities she faces as a female MMA fighter, Gina Iniong continues to battle with conviction and she wants women like her to do the same.
"Don't give up on your dreams. Women are strong and we are as capable as men in excelling in this field," Iniong said.
For Iniong and her Team Lakay teammates, there is no mountain they can't conquer.