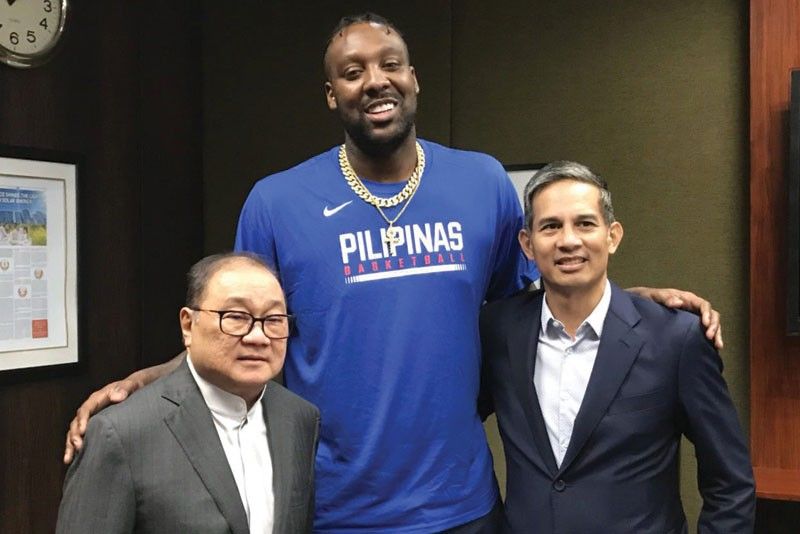 SBP chairman emeritus/FIBA Central Board member Manny V. Pangilinan (left) with SBP president Al Panlilio and Andray Blatche.
MVP to reach out to Zagklis
MANILA, Philippines — SBP chairman emeritus and FIBA Central Board member Manny V. Pangilinan will pursue Fil-Am NBA player Jordan Clarkson's application for eligibility as a local to suit up for Gilas with the goal of enlisting the Cleveland Cavaliers guard for the World Cup in China on Aug. 31-Sept. 15.
The SBP obtained the NBA's approval for Clarkson to play for the Philippines in last year's Asian Games but the World Cup will require clearance from FIBA. In the Asian Games, only passports are required for foreign-born players to represent the country of their choice, regardless of when they were issued. In FIBA-sanctioned tournaments, foreign-born players must have received their passports before turning 16.
In a meeting with Andray Blatche at the Meralco building last week, Pangilinan said he will reach out to FIBA secretary-general Andreas Zagklis who took over from the late Patrick Baumann last December. Zagklis, 38, was FIBA's external legal advisor for nine years before joining the organization as director of Legal Services and general counsel in 2016. Zagklis' expertise extends to good governance, dispute resolution and commercial rights in sports. He has supervised over 1,000 cases with the Basketball Arbitral Tribunal and was an assistant to the Court of Arbitration for Sport over three Olympics.
"Andreas texted me soon after the game against Kazakhstan and I was surprised, congratulating Gilas," Pangilinan told Blatche. "We had a series of text exchanges. What I will do is to send a request to FIBA for you two (Blatche and Clarkson) to play together with Jordan to play as a local and you as a naturalized player. I think if both of you are there, then we will have a super team."
Pangilinan said he plans to take up the issue during the FIBA World Cup draw in Shenzhen on March 16. The draw will gather representatives of the 32 countries participating in the conclave. It will situate the teams to comprise the eight groups of four in the first round of eliminations.
"One of the things that I would like to say to Andreas when I see him during the draw is to ask about Jordan's status," said Pangilinan. "This early, I will send him a letter stating that we would like to see Jordan play as a Filipino."
SBP president Al Panlilio said for his part, he will fast-track discussions with the PBA and the Gilas coaching staff led by Yeng Guiao on a training timetable so Blatche is able to confirm his schedule early. "We need to sit down with coach Yeng and finalize the calendar of activities," he said. "I will talk to the PBA and put in place a training camp schedule for the World Cup. We need to work with Andray on his availability. We will join tournaments as part of our preparation. The goal in China is to win more than one game. We won one game in Seville (during the 2014 FIBA World Cup)."
Blatche will play his last game with Tianjin in the Chinese league on March 13 then leave for home in Atlanta. But before boarding the flight back to the US, he intends to meet up with Pangilinan and Panlilio in a Hong Kong stopover on March 14 for a meal at Ruth's Chris Steak House.