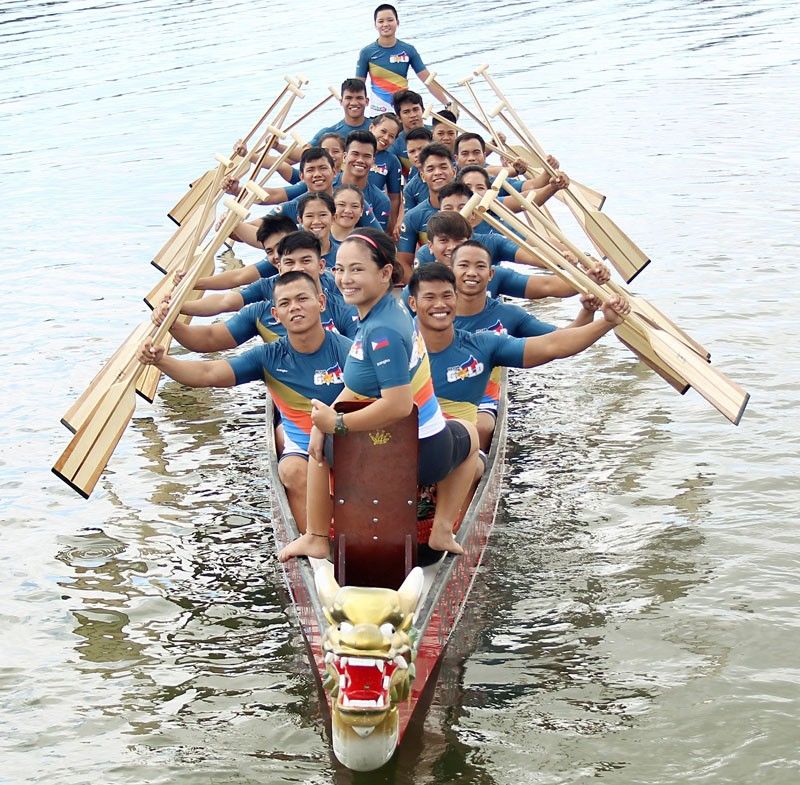 Members of the triumphant Philippine dragon boat team.
PSA honors Go For Gold Philippine dragonboat team
(The Philippine Star) - February 25, 2019 - 12:00am
MANILA, Philippines — Filipino paddlers from the Philippine Canoe Kayak and Dragonboat Federation cemented their status as world champions through the sports philanthropy of Go For Gold Philippines.
The Philippines brought home five gold medals from the ICF World Dragon Boat Championships last year – a historic feat that will be recognized during the Philippine Sportswriters Association Awards Night on Tuesday at the Manila Hotel.
"We want to express our heartfelt gratitude to the PSA for the recognition. But our accomplishment won't be possible without the hardwork and dedication of the team and the backing of Go For Gold,'' said PCKDF president Jonne Go.
Go For Gold godfather Jeremy Go bankrolled the trip of the national women's dragonboat team in the worlds held in Gainesville, Georgia, allowing the Pinoy paddlers to dominate the mixed event category of the global championships.
Led by paddlers Hermie Macaranas, Ojay Fuentes, drummer Patricia Bustamante and steersman Maribeth Caranto, the Phl paddlers ruled the 10-seater and 20-seater senior mixed 200-meter and 500m races.
They capped the unprecedented success with a 5th gold in the 10-seater senior men's 200m to seal the overall title of the meet held at the Lake Lanier Olympic Park where the best paddlers in the world converged.
"We are very happy to support the team. We are firm believers in equality in sports and we hope that we can encourage more women to join not just dragonboat, but all sports,'' said Go, who is also supporting five other sports besides dragonboat.
The Philippines emerged triumphant over the national teams of Hungary, France, Germany, Canada, Czech Republic, Armenia, Italy, Russia, Japan, Switzerland, Ukraine and host US.
"Go For Gold helped us bring the women's team to the world championships and it was very crucial for us to succeed,'' said PCKDF head coach Len Escollante. The PCKDF is a major awardee during the PSA Awards Night.
Other members of the team were Mark Jhon Frias, Oliver Manaig, Reymart Nevado, Daniel Ortega, Raquel Almencion, Rosalyn Esguerra, Glaiza Liwag, Cristine Mae Talledo, Jonathan Ruz, John Paul Selencio, Sharmane Mangilit, Rhea Roa, John Lester Delos Santos, Lee Robin Santos, Jordan De Guia and Roger Masbate.
Apart from winning five golds, the team also brought home a pair of silver medals in the big boat senior mixed 2000m and small boat men's 500m.
Go For Gold also supports national athletes from cycling, triathlon, wrestling, sepak takraw and skateboarding.