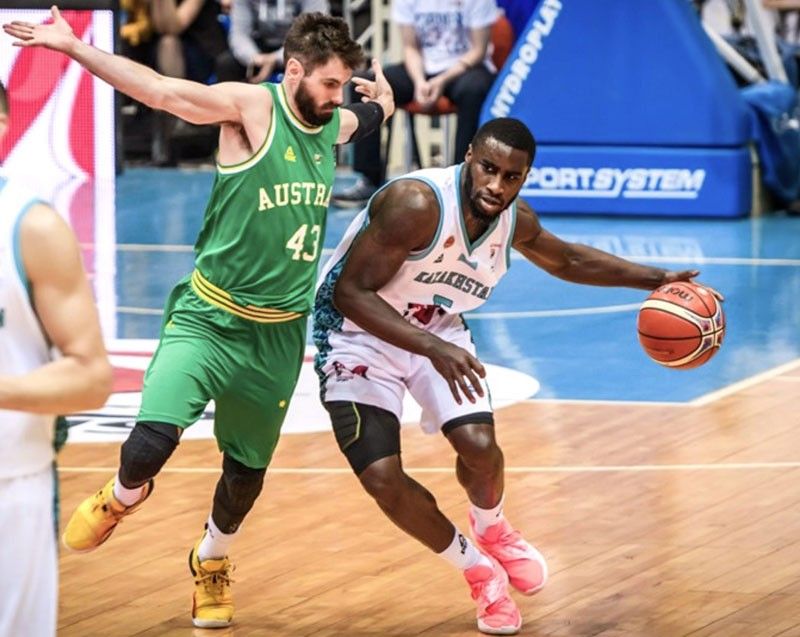 Jarrad Weeks of Australia guards Anthony Clemmons during 2019 FIBA basketball World Cup Asian qualifier at the Astana Republican Velodrome Saryarka.
FIBA.com
MANILA, Philippines — Kazakhstan's new naturalized import Anthony Clemmons will be a marked man when the Philippines takes on the host country at the 10,000-seat Saryarka Sports Complex in Astana tonight. It's the final game for both nations in the FIBA Asia/Pacific World Cup Qualifiers with the Philippines looking to advance and Kazakhstan now out of contention for a slot in the China conclave on Aug. 31-Sept. 15.
Clemmons, 24, is a 6-2 combo guard from the University of Iowa where he saw action in 137 games over four seasons, averaging 5.1 points and 2.5 assists. As a senior in 2015-16, he was cited with a co-defensive player award while hitting at a varsity career-high 9.2 points. Clemmons posted his single-game high of 20 points against Rutgers in 2016.
Clemmons moved to BC Astana in the Kazakh league in 2017 after a season playing in Austria. Last Thursday, he made his World Cup Qualifiers debut with the Kazakh national team against Australia, scoring 31 points in 36:43 minutes. The Aussies won, 81-60. Clemmons shot 12-of-21 field goals, including 4-of-8 from beyond the arc, and had one rebound, three assists, four steals, three fouls and one turnover. Clemmons and 6-4 Rustam Yergeli took 39 of Kazakhstan's 66 attempts so they accounted for more than half of the team's tries from the field.
Gilas assistant coach Sandy Arespacochaga watched the Australia-Kazakhstan game in the stadium with another assistant coach Ford Arao and took down scouting notes. "Clemmons is a scoring guard who has the ball in his hands a lot," said Arespacochaga. "He's very crafty on ball screens. He can play one or two, has three-point range and can score off drives and mid-range. He can pass the ball, too."
As to whom Gilas head coach Yeng Guiao will designate to shadow Clemmons, Arespacochaga said it will still be decided. "We have to talk with the rest of the staff as to who will be guarding him," he said. Candidates are Gabe Norwood, Mark Barroca and R. R. Pogoy who's expected to be reactivated after serving out his five-game FIBA suspension.
Arespacochaga said while Clemmons had 21 attempts, it wasn't like he didn't want to pass. "Clemmons wasn't really a ball hog though he had a lot of attempts," he continued. "He moved the ball around to other players. The other guys, however, weren't a factor offensively but we have to factor in their other games, especially against us, into our defensive game plan."
Arespacochaga referred to 6-8 Alexander Zhigulin who was held to four points in 33:24 minutes by Australia. Zhigulin, 24, went 1-of-7 from the floor but had eight rebounds and three assists. Against Gilas in the fifth window last November, Zhigulin erupted for 30 points, spiked by 6-of-12 triples in Kazakhstan's 92-88 win at the MOA Arena.
Arespacochaga said it will be a challenge for Kazakhstan to stop Andray Blatche. "They'll have their hands full with Andray," he said. "They might have to come up with a defensive scheme to guard him." Blatche terrorized Qatar in the Philippines' emphatic 84-46 win in Doha last Saturday, finishing with 17 points, 15 rebounds and 7 assists.
SBP operations director and team manager Butch Antonio said in the locker room after the Qatar contest, there was little celebration because of what lay ahead. Gilas took a 6:45 a.m. flight the next morning to Istanbul where the team endured an eight-hour layover enroute to Astana. Gilas was scheduled to land in Astana at 3:35 a.m. yesterday to below-zero Celsius temperature.
"Coach Yeng congratulated the guys for the win (over Qatar) in the locker room," said Antonio. "He wanted the team to now focus on Kazakhstan. He expects it to be more challenging. Everyone contributed to the win over Qatar. Dray got everybody involved because of the extra attention on him by Qatar."
Clemmons, a sport and recreation management major at Iowa, played under coach Fran McCaffery with the varsity Hawkeyes, coach Van Mayfield with the Michigan Mustangs in the AAU and coach Carlton Valentine with the Sexton High School team. In 2016-17, he averaged 17.9 points, 4.7 rebounds, 4.5 assists and 2.0 steals with BC Hallmann Vienna in the Austrian league. Last year, Clemmons played for Kazakhstan in the FIBA Asia Champions Cup, averaging 14 points, 4.7 rebounds, 3.3 assists and 1.3 steals in seven contests. He shot 48.3 percent from the floor, 29.4 percent from three-point distance and 66.7 percent from the line.