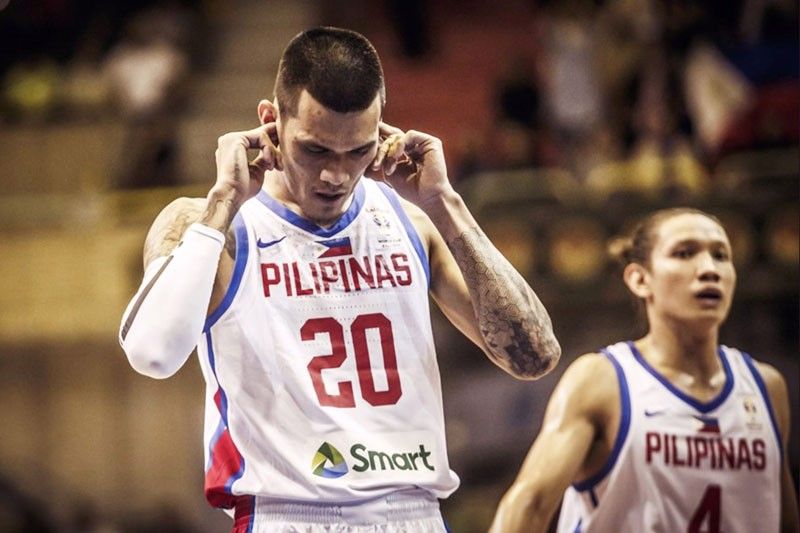 Rain or Shine center may also miss Gilas Pilipinas-Kazakhstan game
Raymond Almazan hounded by bad luck
DOHA – Raymond Almazan could be out of the entire FIBA World Cup final window, including the Gilas Pilipinas-Kazakhstan match in Astana on Sunday because of his sprained left ankle.
"He has missed all our practices since reinjuring his ankle. He's been left behind, and it may already be hard for him to catch up," said Gilas coach Yeng Guiao.
As of Wednesday, Almazan's ankle was still swollen, and he walked with a limp.
In practice, all he could do was to help pump up his teammates while he was being attended by physical therapist Dexter Aseron on the sideline.
"I will be loud," said Almazan as he kept on shouting options to be done by his teammates running plays on the floor.
"If I could not play, I would do anything to be of help to the team. Ako ang magiging pinaka-maingay sa bench," said Almazan, hounded by misfortunes that have limited him to only one game so far in the entire FIBAWC qualifier.
Also due to injuries, the Rain Or Shine center was always among the last cuts during their time under coach Chot Reyes.
Almazan had a good exposure as a national player in the Asian Games in Jakarta, Indonesia last year.
"Medyo minamalas," said Almazan, who suffered the ankle sprain just at the start of their training here Sunday. It was the same injury that caused him to miss Rain or Shine's first two games in PBA Season 44.
If Almazan is out, Guiao will still have 13 players to choose from the 12 men he'll play against Kazakhstan in a vital tiff in Astana on Sunday.
RR Pogoy will make his Gilas return after having served a five-game suspension in the aftermath of the Gilas-Australia brawl.
The other players are the 12 who composed the Gilas lineup against Qatar – Andray Blatche, June Mar Fajardo, Poy Erram, Troy Rosario, Japeth Aguilar, Paul Lee, Mark Barroca, Gabe Norwood, Marcio Lassiter, Scottie Thompson, Jayson Castro and Thirdy Ravena.
Guiao said it's a blessing that they decided to bring in 14 players here.
"At first, we're thinking of bringing just 13, including RR Pogoy who is not free to play in the Qatar game. Upon the consensus of the coaching staff, we brought 14 and it's a good decision looking back," said Guiao.
But Guiao stressed Ravena was in strong contention even if Almazan didn't get injured.
"He provides a role for us. He's a defensive stopper with his able body, strong body. He has offense but his role really is to provide us a defensive option on the best scorer of the other side, meaning wing men," said Guiao of the Ateneo hotshot.