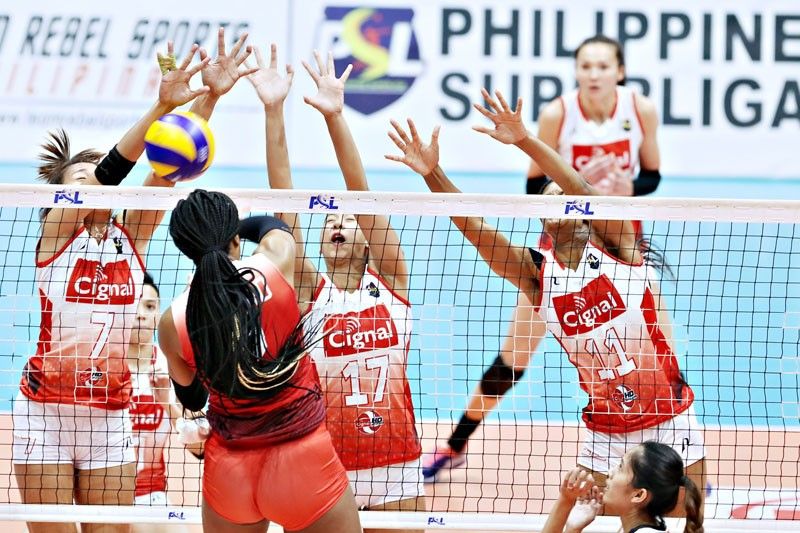 Grace Lazard of PLDT Home Fibr scores against the towering defense of Cignal HD Spikers Mylene Paat, Franya Musa and Erica Wilson in their Philippine Super Liga Grand Prix 2019 matchup yesterday at the Filoil Fying V Center in San Juan.
Joey Mendoza
F2 Logistics shrugs off loss of 3 key players, whips SLR
(The Philippine Star) - February 22, 2019 - 12:00am
MANILA, Philippines — Hardly slowed down by the absence of three key players, including import Lindsay Stalzer, F2 Logistics rolled past Sta. Lucia, 25-21, 25-19, 25-19, to take pole position in the Philippine Superliga Grand Prix yesterday at the Filoil Flying V Center.
Becky Perry took the cudgels with 10 attacks, two blocks and three aces as her partner Stalzer remained unavailable due to ongoing commitment in the Indonesian league, but she got valuable support from Ara Galang (15), Major Baron (11) and Aby Maraño (8) as the Cargo Movers booked their second straight win.
The squad scored a followup to its 26-24, 21-25, 25-21, 25-14 opening day win over Cignal with injured skipper Cha Cruz Behag (shoulder) and Kim Kiana Dy (knee) sitting it out again. Maraño herself is playing despite being diagnosed with psoriasis, an autoimmune disease characterized by patches of abnormal skin.
Casey Schoelnlein posted a game-high 18 to lead the Lady Realtors, who suffered their second consecutive setback for 1-2.
"Our import showed that she can lead the team," said F2 coach Ramil de Jesus. "During our first game, everyone was still adjusting, but now they're more relaxed, they know each other's strengths and made the correct movement inside the court."
Earlier, Cignal rebounded from its opening-game loss with a 25-22, 27-25, 25-19 sweep of PLDT Home Fibr.
"I think we were a little more relaxed compared to the first match," said Erica Wilson, who punched in 21. "Maybe there were some letdowns during this game but after we relaxed, we got our composure and we finished strong,"
Mylene Paat added 19, getting productive as a result of Cignal coach Edgar Barroga's decision to move Anastasia Artemeva to middle to give the former Adamson star room to operate on the opposite.
Grace Lazard paced PLDT (0-2) with 15.
Defending champion Petron drew level with F2 atop the standings after blanking Generika-Ayala, 25-16, 25-23, 25-15, in the third game.
Stephanie Niemer delivered 19 attacks, two blocks, and three aces to lead the Blaze Spikers to Win No. 2 while sending the Lifesavers to 0-2.