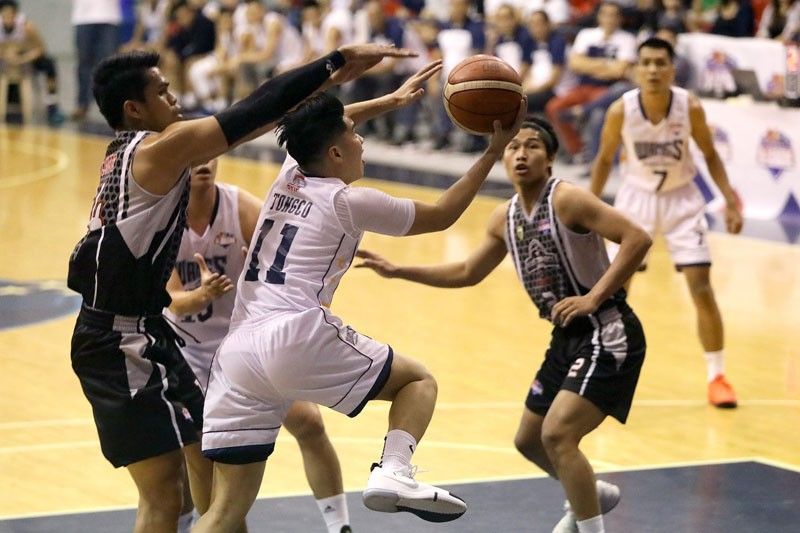 Wangs Basketball's Radge Tongco drives for a layup against Michael Canete of The Masterpiece-Trinity University of Asia in their PBA D-League game yesterday at the Ynares Sports Arena in Pasig.
PBA D-LEAGUE IMAGE
Baguio eyed as Philippine Sports Training Center arena
Abac Cordero
(The Philippine Star) - February 22, 2019 - 12:00am
Pangasinan not conducive to training
MANILA, Philippines — President Duterte has given Malacañang's stamp of approval on the construction of the long-overdue Philippine Sports Training Center (PSTC).
It's now up to the lawmakers and sports leaders to find the most ideal location of the training center that has an initial price tag of P3.5 billion.
"It's not our choice but what is ideal for the training center," said Philippine Sports Commission (PSC) chairman William Ramirez.
A committee involving members of Senate, Congress, Philippine Olympic Committee (POC) and the PSC will be formed.
"We need a strategic planning on where we're going – specific venue, manpower requirements and directions for the program," said Ramirez.
"It's not easy but we are being given the opportunity to shape Philippine sports. I never thought that it would happen in this administration," he added.
The PSTC will replace the Rizal Memorial Sports Complex (RMSC) that was built in 1934. The brand-new training center will be Duterte's legacy in Philippine sports.
"That's the President's mantra," Ramirez said during Duterte's ceremonial signing of Republic Act 11214 (PSTC Act) last Wednesday in Malacañang.
"This development will help maximize the potential and competitiveness of our local athletes," said Duterte at the Rizal Hall.
Initially, the plan is to put up the PSTC on a 20-hectare property in Rosales, Pangasinan. But this is subject to change.
"It's a game-changer if the President endorses a thing like that," said Sen. Richard Gordon.
"It's about time we take care of our athletes because anywhere in the world, athletes are given the attention, the training and the support," the lawmaker from Olongapo said.
A Manila congressman with a wide experience in sports said looking for the perfect location of the training center is key.
"The venue has to be determined. It has to be conducive to high-level training," said Rep. Manny Lopez, who ran amateur boxing in the country for 21 years.
Lopez said unless it's way up north like Baguio City, it's not too wise to put up the training center in a place like Rosales in Pangasinan, Capas in Tarlac or Clark in Pampanga.
"It's too hot out there. Our athletes will be dehydrated," said Lopez, adding that the most ideal places to build the center are Baguio City, Tagaytay or Los Baños in Laguna.
"Anywhere near Mt. Makiling (in Los Baños). It's just an hour away from Manila. We need fresh air for the athletes, a place where they can hear the birds singing," he said.
Lopez said Tagaytay, if not for the high cost of real estate, presents a perfect set-up.
Lopez and his fellow congressmen, who all have a background in sports, like Reps. Mikee Romero and Abraham Tolentino, are all behind the PSTC.
"I have no objection to that because it's been long-overdue. But I'm speaking from experience being in sports for 21 years. We need to find the right location," he said.