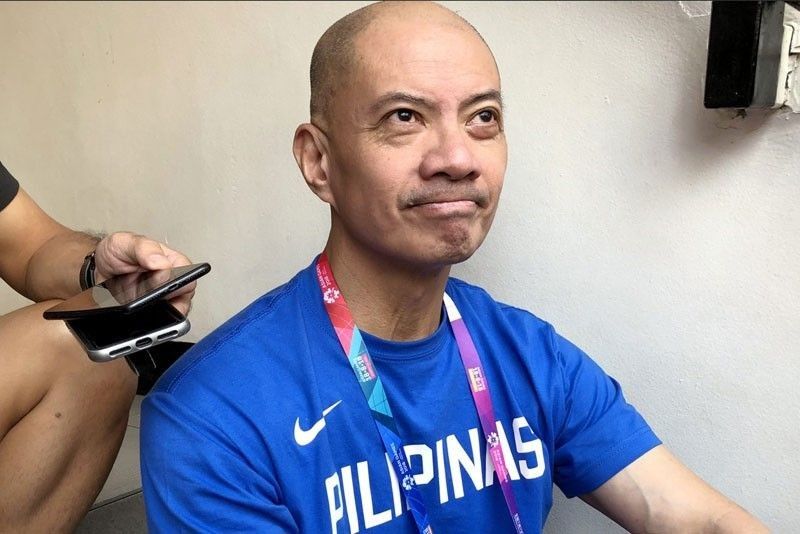 Gilas Pilipinas staff early to Astana to scout Kazakhstan
MANILA, Philippines — Gilas head coach Yeng Guiao's assistants Sandy Arespacochaga and Ford Arao are now in Astana awaiting the arrival of the national team from Doha to play host Kazakhstan in their last game of the FIBA Asia/Pacific World Cup Qualifiers on Sunday.
Arespacochaga and Arao flew in directly from Manila the other day to watch Kazakhstan's game against Australia last night. They'll be ready with their scouting report to brief Guiao, chief scout Ryan Gregorio and assistants Caloy Garcia and Ricky Umayam when Gilas lands in Astana.
Gilas leaves Doha this morning and will travel to Istanbul for a stopover before touching down in Astana at 3:35 a.m. tomorrow. PBA commissioner Willie Marcial will join the team in Astana with PBA Board vice chairman Dickie Bachmann of Alaska, treasurer Atty. Raymond Zorilla of Phoenix, governor Silliman Sy of Blackwater and operations and technical director Eric Castro.
It won't be a warm welcome for Gilas as the weather in Astana is a freezing -11 degrees Celsius. The game will be held at the 10,000 Saryarka Sports Complex whose facilities include a velodrome, swimming pool, basketball court, ice rink, fitness center, conference halls, restaurant and hotel. It's the homecourt of the Kazakh club BC Astana which is the mother team of nine of the national squad's 12 players. Kazakhstan national coach Renatas Kurilionokas of Lithuania is also the Astana mentor.
"If the gym is heated, the cold won't be a problem," said Arespacochaga who was Guiao's assistant at NLEX before joining the TNT KaTropa staff in the PBA this season. "As to how the heater will provide heat, it remains to be seen. It's below zero in Astana with some snow flurries to boot. But it's warm in the hotel. We have yet to see the practice facility if it's cold or heated. But the game venue is heated."
Arespacochaga said there is no hostility in the air. "Basketball isn't too big in Kazakhstan," he said. "The people are nice and friendly. Ford and I have been asked what sport we play. Australia came in with a lot of new players with availability and schedule a problem." Arao is in Guiao's staff at NLEX.
For Australia, Kurilionokas deployed 10 of the 12 players on the team that beat the Philippines, 92-88, at the MOA Arena last Nov. 30. The 10 returning players were 6-8 Alexandr Zhigulin, 24, 6-4 Rustam Yergali, 32, 6-4 Rustam Murzagaliyev, 26, 6-5 Nikolai Bazhin, 28, 6-7 Dmitry Gavrilov, 32, 6-6 Vadim Chsherbak, 25, 6-6 Anton Bykov, 29, 6-8 Ruslan Aitkali, 21, 6-8 Denis Degtyaarev, 28 and 5-11 Shaim Kuanov, 27. Struck out were Vitaly Lopachenko and Maxim Marchuk. Replacing Lopachenko and Marchuk were 6-8 Askar Maidekin, 21 and 6-2 naturalized import Anthony Clemmons, 24. The team's average height is 6-5 and average age is 26. Kurilionokas has the option of tweaking his lineup for the game against the Philippines and will submit his 12-man roster at the team managers meeting tomorrow.
Kazakhstan's upset over Gilas was highlighted by torrid three-point shooting as the Kazakhs hit 12-of-23 triples for a 52.2 percent clip compared to the Philippines' 8-of-23 for 34.8 percent. Zhigulin torched Gilas with 30 points, including 6-of-12 from beyond the arc. Bykov shot 20 points while Murzagaliyev and Kuanov combined for 5-of-7 treys. Gregorio described Kazakhstan's shooting as "unbelievable" as "they shot extremely well."
"Clemmons is a scoring guard who can help their pick-and-roll offense," said Arespacochaga. Clemmons never averaged in double figure points in four years with the University of Iowa varsity. As a senior in 2015-16, he averaged career highs of 9.2 points, 2.7 rebounds and 3.8 assists. Clemmons shot 50.6 percent from the floor, 31.8 percent from three-point range and 60.5 percent from the line. He played a season in Austria before joining Astana in 2017.
"Kazakhstan will be a huge challenge," said Gregorio. "We expect them to utilize their new naturalized player Clemmons, a 6-2 guard who's athletic. We'll also pay attention to the players who hurt us the most when we played them (in the fifth window last year), specifically, Zhigulin, Yergali, Bykov and Murzagaliyev. But more than that, we're bracing for a very cold temperature. (SBP operations director) Butch (Antonio) has given us supplies and garments to combat the cold."