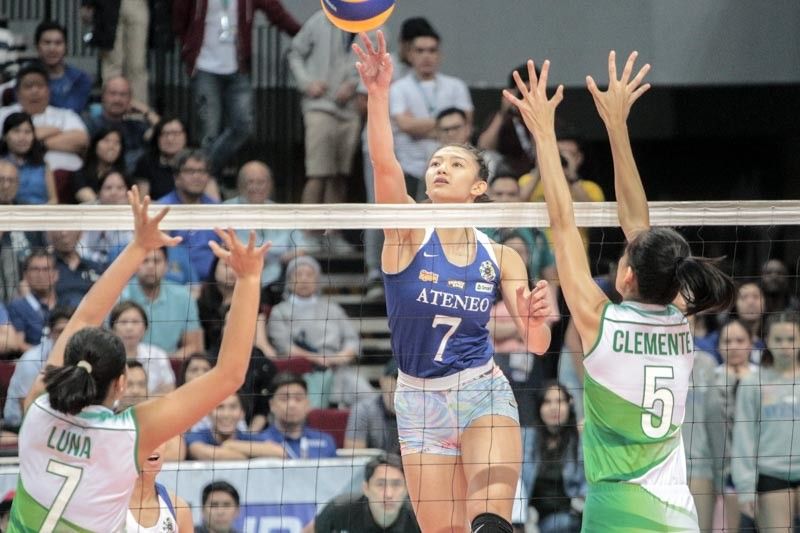 Maddie Madayag takes the player of the game honors with 15 points from nine attacks and six blocks
FILE
Gritty Ateneo disposes UST in four sets for inaugural win
MANILA, Philippines – The Ateneo Lady Eagles have notched their first victory in UAAP Season 81 at the expense of the UST Golden Tigresses, 25-21, 25-18, 16-25, 25-22, at the FilOil Flying V Centre in San Juan on Wednesday.
Ateneo relied on its defense to keep the explosive Tigresses in check. With Maddie Madayag leading the pack, the Lady Eagles shut out UST's offense with a wall of blockers bothering opposing spikers almost every play.
The Katipunan-based squad played catch-up in the beginning of the match. UST had a two-point advantage in the middle of set, 16-14.
But back-to-back errors from the Tigresses evened things up at 16.
Ateneo's offense stepped up late in the first set for a 25-21 comeback.
It was the same story for UST to begin the second set, leading the Lady Eagles early.
Ateneo was able to play at pace with the Tigresses and held them at a deadlock, 11-all.
But the Lady Eagles were quick to pull away, with Madayag and Kat Tolentino leading the charge.
Finishing the set with a 6-0 block points to their name, Ateneo notched the dominating 2-0 lead, 25-18.
The Lady Eagles looked poised to sweep the Tigresses, with momentum clearly on their side.
But UST wouldn't budge.
Exploiting the reappearance of Ateneo's reception woes, UST mounted a 7-0 lead to start the third set.
Ateneo would score three straight points before the technical timeout but simply couldn't recover in the set. UST ended up stayed alive, 25-16.
It was then Ateneo's turn to start strong in the fourth set. The Lady Eagles held a seven-point upperhand early, 10-3.
But the Tigresses weren't about to give up the set without a fight. UST chipped at Ateneo's lead until they were only down by two, 21-23.
But a Tolentino attack and a Sisi Rondina error eventually cost them the match, 22-25.
Madayag was named Player of the Game with 15 points from nine attacks and six blocks.
Both squads now tout identical 1-1 records, while Coach Oliver Almandro gets his first UAAP win with the Lady Eagles.