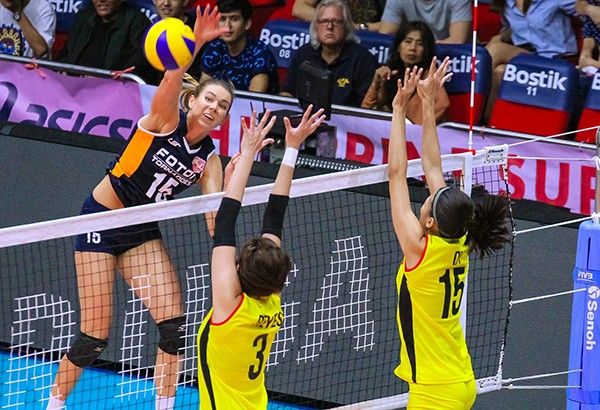 Formerly with Foton, Lindsay Stalzer will now be reinforcing F2 Logistics in the upcoming PSL conference.
Stalzer to miss F2 Logistics' first 2 matches
MANILA, Philippines – Fans will have to wait before seeing Lindsay Stalzer back in action.
F2 Logistics' team manager Hollie Reyes said the comely American spiker will land on the country on February 24 to join them in their quest in the Philippine Superliga Grand Prix.
Reyes said Stalzer is still in the thick of her campaign with Jakarta BNI Taplus, which is still competing in the finals of the Indonesian Proliga.
"Lindsay is set to arrive on the 24th so she will miss our first two matches," said Reyes, referring to the three-time Grand Prix champion and former Most Valuable Player.
"But it's okay. This is a very long conference with double-round eliminations. Lindsay is coming off a tough campaign so she's coming here in great shape. We expect her to hit the ground running and quickly adjust to our system."
With Stalzer still out, Italian-American journeywoman Becky Perry will serve as the lone reinforcement while Ara Galang and Cha Cruz get extended minutes of action.
Of course, star middle blocker Aby Marano, Majoy Baron, Kianna Dy, Kim Fajardo and Dawn Macandili will also have to step up to fill the cudgels left by Stalzer.
Reyes said head coach Ramil de Jesus likes what he's seeing from his wards lately.
"We started the year a little bit slow because we're coming from a very grueling campaign last year with most of the players seeing action for the national team," said Reyes, who also played college ball for De La Salle University.
"But we're glad that everybody is now regaining their forms. Becky, in fact, is also adjusting well and already developing her chemistry and connection with her teammates, especially Kim Fajardo."
"We're all excited for the upcoming season. We're looking forward to another strong performance, especially with a proven winner like Lindsay as our import."