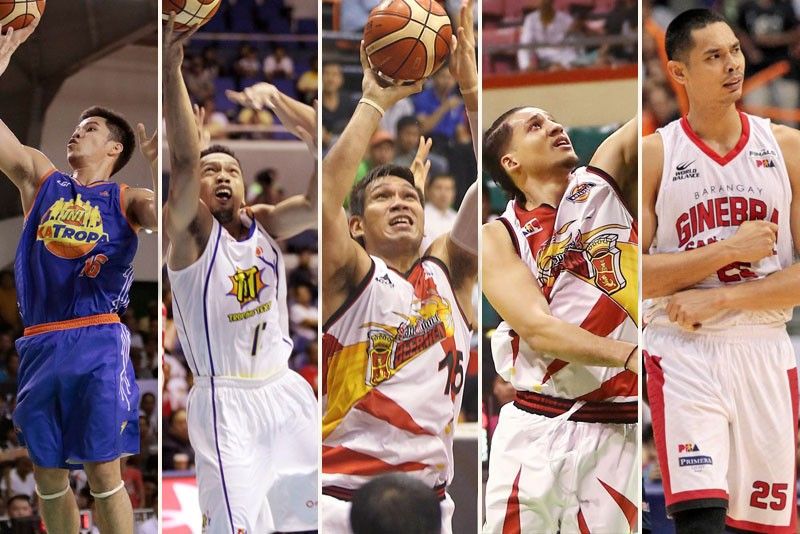 RR Pogoy, Jayson Castro, June Mar Fajardo, Marcio Lassiter and Japeth Aguilar
Gilas players in fine form
MANILA, Philippines — Gilas players are all in fine form, most of them on top of the stats ladder in the 2019 PBA Philippine Cup, as they head to the final window of the FIBA World Cup qualifier.
RR Pogoy, June Mar Fajardo, Jayson Castro, Japeth Aguilar and Marcio Lassiter are all in the Top 10 in scoring; Fajardo and Scottie Thompson are two of only four players averaging double-double numbers; and Poy Erram, Raymond Almazan and Fajardo are the top three in blocks.
Nine Gilas players average in double figures in scoring, and only four don't.
Almazan and Gabe Norwood are really not expected to score much as the latter is more of a rebounder and rim protector while the former is primarily a perimeter defender.
Struggling a bit are Paul Lee and Mark Barroca as their team the Magnolia Hotshots are just back into action after a title run in the recent Governors Cup.
Lee averages only 8.7 points, 3.7 rebounds and 3.0 assists while Barroca puts in 8.3 markers, 4.3 boards and 3.0 dish-offs. Their shooting is also a little off.
But coach Yeng Guiao expects both to be back on top of their game come the window proper against Qatar on Thursday and versus Kazakhstan Sunday.
Lee and Barroca will share the point guard chores with Castro, and both are expected to contribute with their outside shooting and backcourt hustle.
Pogoy is the hottest with a league third-best 19.8 points per game that goes with 9.67 rebounds an outing. He's No. 3 in scoring behind Stanley Pringle (22.5) and Sean Anthony (20.5).
Alas, the TNT KaTropa gunner is still serving a suspension in the Qatar-Phl match. He'll be back in Gilas uniform in Astana, Kazakhstan.
Fajardo is still on a roll from his fifth MVP season last year, averaging 19.1 points and 11.9 rebounds. He's fifth in scoring and No. 1 in rebounding.
Thompson is a double-double machine for Ginebra, piling up 11 markers and 10 boards a game on top of his average of 3.6 assists.
Aguilar is also in the zone with his norms of 18.2 points and 7.0 rebounds. He also puts in a three-pointer per game.
For TNT, Castro norms solid all-around numbers with 18.7 points, 5.3 assists and two three-point conversions per game while Troy Rosario contributes 14.0 markers, 4.3 rebounds and is hot with his 40-percent three-point shooting.
Erram has quickly acquitted with his new team NLEX that he leads in scoring (15.7), rebounds (8.7) and blocks (3.3). He also converts 1.2 treys per game on a high 41-percent clip.
Then there would be naturalized player Andray Blatche who could well be a pillar for Team Phl on offense, defense and in snaring the rebounds.