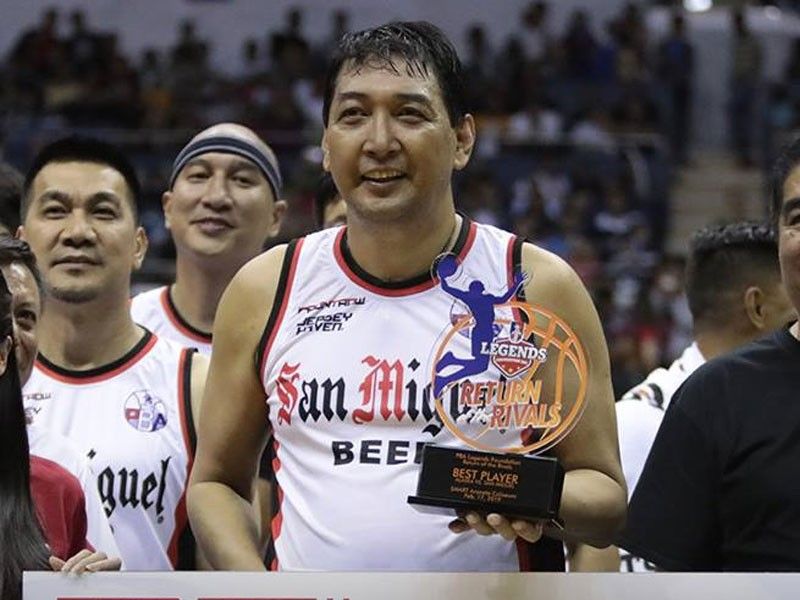 With 26 points anchored on a hot shooting from rainbow territory, SMB's Allan Caidic came home with the Best Player of the Game award.
PBA Images
Caidic's timeless touch lifts San Miguel over Alaska in PBA legends showdown
MANILA, Philippines – The legends were far from their old forms and were limited to flashes of old brilliance.
Allan Caidic had a lot of it in the fourth quarter where he tossed in 16 of his 26 points as San Miguel Beer outshone Alaska Milk, 96-83, in their side of the legends classic at the Smart Araneta Coliseum Sunday night.
Terribly off in the first half, Caidic found his touch in the second half, going 6-of-10 from beyond the arc after misfiring all of his four attempts.
To cap his 26-point game, the 1990 PBA MVP knocked in back-to-back treys to make it 91-79 in the last two minutes of the game. He rested the last 1:27 of the game but there's no denying him of winning the Best Player of the Game award.
Danny Ildefonso (14 points and 14 rebounds) and Dondon Hontiveros (11 markers and 11 boards) collected double-double numbers, Denok Miranda contributed 17 points while Nic Belasco helped with 18 rebounds for the Beermen.
"Kahit na exhibition game, determinado ang mga players na manalo," said SMB coach Pilo Pumaren.
Willie Miller top scored with 20 points while Johnny Abarrientos had his own double-double game with 11 points and 10 rebounds.
The Aces were the team more in sync in the first half, leading by eight, 40-32, at the turn.
Playing their touted Triangle Offense, the Aces even stretched their lead to 10 in the third quarter before the Beermen hit a good rhythm and surged ahead, 62-59, at the end of the third.
The two teams hit great strides in the fourth quarter, especially Caidic and Miller who engaged in a fierce shootout towards the end of the match.
Miller, a two-time PBA MVP winner, strung up three straight three-pointers to tie the count at 78-all.
But Ildefonso, Caidic and Chris Calaguio answered with a decisive 13-1 binge to settle the outcome of the game pitting stars of two most successful PBA teams in the 90s.
"Mas marami ang mga bata sa amin, kaya siguro lumamang kami," said Pumaren.
At the half, EJ Feihl beat Marlou Aquino, Bonel Balingit and Ervin Sotto in an Obstacle Challenge.
The scores:
San Miguel 96 – Caidic 26, Miranda 17, Ildefonso 14, Hontiveros 11, Belasco 7, Alvarez 6, Racela 5, Agustin 4, Calaguio 3, Gamboa 2, Paras 1, Reyes 0, Asaytono 0, Teng 0, Abuda 0.
Alaska 83 – Miller 20, Abarrientos 11, Santos 9, Dela Cruz 8, Cariaso 7, Laure 6, Duremdes 5, Juinio 5, Lastimosa 4, Ferriols 4, Gomez 2, Hawkins 2, Sotto 0, Adornado 0.
Quarterscores: 20-21, 32-40, 62-59, 96-83