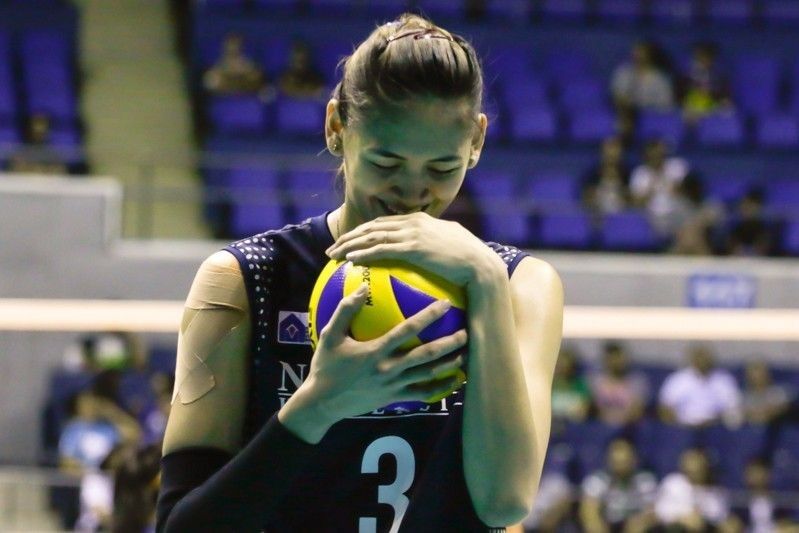 Jaja Santiago to receive 'Ms. Volleyball' award from sportswriting body
MANILA, Philippines – Another feather will be added on Jaja Santiago's cap.
The Philippine Sportswriters Association is set to award Santiago the prestigious Ms. Volleyball honors when it holds its Annual Awards Night on February 26 at the Manila Hotel.
It has been a very rewarding year for the 6-foot-5 opposite.
After winning Most Valuable Player for National University in the University Athletic Association of the Philippines, Santiago became part of the national squad that saw action in the Asian Games for the first time in 36 years in Indonesia and the AVC Asian Women's Volleyball Cup in Thailand.
She also played commercial ball for Foton in the Philippine Superliga, leading the Tornadoes to an impressive campaign.
But those were not the clincher.
The country's oldest media organization feted Santiago for making it to the prestigious V.Premier League of Japan together with her sister Dindin Manabat and Marck Espejo, who will also be honored with the Mr. Volleyball crown.
Although Manabat is having a hard time coping up with her club, Toray Arrows, due to her recurring knee injury, Santiago blossomed into a solid force to be reckoned with for Ageo Medics.
In fact, she was named Player of the Game a couple of times, proving that she has what it takes to play next to the best players in the world.
Santiago's contract is expected to lapse in May.
After that she will join the Tornadoes in the PSL All-Filipino Conference as well as the national women's volleyball team in three major tournaments ahead, including 30th Southeast Asian Games.
Two years ago, Mika Reyes was named Ms. Volleyball for her inclusion in the team that saw action in the FIVB Women's Club World Championship.
Then, it was Dawn Macandili's turn to shine as she was given the prestigious honor after winning the Best Libero title in the Asian Senior Women's Championship that the country hosted.