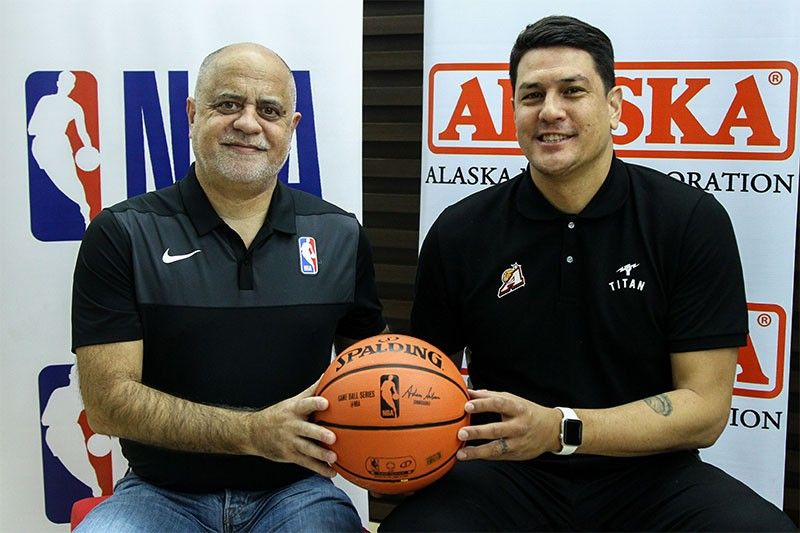 NBA Asia Associate Vice President for Basketball Operations Carlos Barroca and Jr. NBA coach Tony dela Cruz of the Alaska Aces.
Contributed photo
Jr. NBA dangles slots to Asia Pacific event, 'Global Championship' in Orlando
MANILA, Philippines – Up to five Filipino boys and five Filipino girls from the Jr. NBA National Training Camp will have the chance to play in the global stage if they stand out and make the cut in the Jr. NBA Asia Pacific Qualifers this June.
In its 12th year, Jr. NBA Philippines is expanding their program with the Asia Pacific Qualifiers and an opportunity to compete in the first ever Jr. NBA Global Championship in Disney World, Orlando, Florida in August.
Young Filipino ballers will work their way up from the regional selection camps to the national training camp in Manila where top performing boys and girls will be chosen to represent the country in the Asia Pacific Qualifiers.
The kids will then face off with fellow qualifiers from Australia, Indonesia, Malaysia, Singapore, Thailand and Vietnam. The best ten boys and best ten girls from the qualifiers will then move on to play for Asia Pacific in the Global Championship.
Veering away from the usual 'experience trip' that usually culminates the Jr. NBA Philippines journey, Filipino kids will get the opportunity to play alongside ballers from different countries in the Asia Pacific Qualifiers.
But if they want a shot at the Global Championship, Filipino cagers will need to work hard for it.
"We never like to say we're going to bring an x number of kids from this country... No, the kids should earn it. They should prove their quality, their commitment," NBA Asia Associate Vice President of Basketball Operations Carlos Barroca said in an interview.
Barroca hopes to see a Filipino in the Jr. NBA Global Championship but he says it's up to the kids and how much they want it.
"I'm looking forward to seeing kids from the Philippines [in the Global Championship], but it doesn't depend on me... it depends on their commitment, their ability and their fire to earn it," Barocca said.
Regional training camps begin on March 9-10 in Lucena, Quezon. Other regional training camp stops include Makati City and Benguet. Jr. NBA Philippines also plans to hold one camp each in the Mindanao and Visayan regions.
Interested boys and girls can register for the Jr. NBA program here: www.jrnba.asia/philippines.