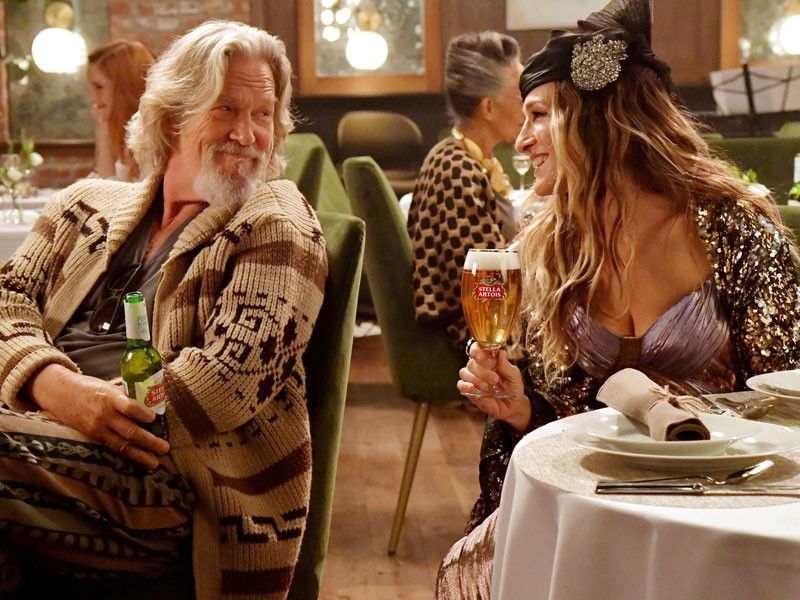 This Hand out image released by Stella Artois on January 31, 2019, shows "The Big Lebowski" Dude and "Sex and the City" Carrie Bradshaw, Jeff Bridges (L) and Sarah Jessica Parker (R), as they were set to appear in a TV commercial this Super Bowl Sunday.
Stella Artois/AFP
WATCH: Star-studded TV ads hog the spotlight in Super Bowl LIII
MANILA, Philippines – From Game of Thrones to ASMR, the Super Bowl LIII TV commercials were nothing short of entertaining.
For some fans, the commercial breaks may have been more entertaining than the game itself with the New England Patriots eking out a flimsy 13-3 victory against the Los Angeles Rams – the lowest scoring Super Bowl of all time.
As always, star-studded advertisements invaded TV screens during America's biggest annual national sporting event. This year's ads featured the likes of Sarah Jessica Parker, reprising her role as Sex in the City's Carrie Bradshaw, a voiceover by Tom Hanks, Cardi B, the Backstreet Boys and many more.
Here are some of the entertaining and expensive Super Bowl commercials this year:
A Super Bowl will never be complete without booze; and beer-makers Stella Artois, Bud Light and Michelob made the most out of Super Bowl Sunday.
Sarah Jessica Parker and Jeff Bridges star in a Sex in the City-Big Lebowski crossover with Carrie Bradshaw and The Dude opting for a bottle of Stella Artois instead of their characters' usual drink of choice.
Meanwhile, the Mountain and the Bud Light knight joust to the death in front of a medieval audience enjoying bottles of Bud Light and Michelob gives ASMR a national TV debut.
Serena Williams may have gotten an early exit from this year's Australian Open, but that didn't stop the tennis superstar from getting her Super Bowl LIII screen time. Williams stars in dating app Bumble's #InHerCourt commercial where she encourages young women to make the first move in work, in love and in life.
90s kids also got a blast from the past as Buffy the Vampire Slayer star Sarah Michelle Geller gave us some I Know What You Did Last Summer vibes with an Olay commercial and the Backstreet Boys featuring Chance the Rapper remixed the boy band's hit I Want It That Way for Doritos.
But perhaps one of the more out of place, but just as important, advertisement of the night was one by the Washington Post.
In an uncharacteristically serious Super Bowl commercial, a Tom Hanks voiceover narrates scenes from major news events throughout history, highlighting how important but dangerous being a journalist really is. Proving a point, the ad then pays tribute to journalists who have gone missing or have died on the job.
We may have had a record low-scoring football game, but at least the commercials were topnotch.