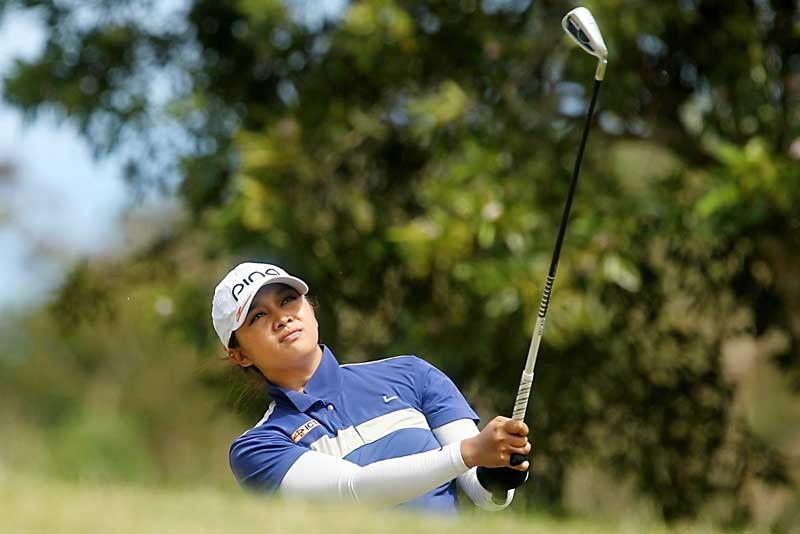 3-way fight up at Splendido as Chonlada Chayanun, Princess Superal rally
LAUREL, Batangas, Philippines — Thai Chonlada Chayanun overcame an early slip and a backside slide with clutch birdies to shoot a 69, forcing a tie with Hwang Min-jeong even as Princess Superal made it a three-way battle for the title with a 68 in the ICTSI Splendido Ladies Classic here yesterday.
The 27-year-old Chayanun gunned down five birdies in a nine-hole stretch from No. 2 to negate a bogey mishap on the first hole then birdied the 18th from 10 feet to check a bogey-bogey misfortune from No. 12 for a 33-36 card that tied her with Hwang at four-under 140 after 36 holes of play at Splendido Taal Golf Club.
The rising Korean star struggled in windy condition and poor decision on the putting green, settling for a two-birdie, two-bogey card for a 72 after an impressive pro debut that saw her fire a 68 Tuesday and gain a three-stroke lead over Chayanun and two other Thais in the P750,000 tournament serving as the fourth leg of the 2018-19 season.
But just a stroke behind at 141 is Superal, who snapped a run of pars with solid iron play that had her birdying the frontside par-3s on Nos. 6 and 8. She then came out of a birdie-bogey game from No. 11 with a birdie on No. 15 before drilling in a 20-foot putt on the 18th for a pair of 34s.
The reigning Order of Merit champion actually grappled with her driver all day but banked on her 5-wood for fairway shots and steady putting to put her back in contention for the top P150,000 purse in the 54-hole event organized by Pilipinas Golf Tournaments, Inc.
"I couldn't hit my driver the way I wanted to. But I hit solid fairway shots with my 5-wood and made even the long putts," said Superal, who wavered with late bogeys that marred her opening 73 and dropped her five strokes off Hwang.
Chayanun fell farther back off Hwang with a bogey on the first hole but the 27-year-old Bangkok native rattled off birdies on Nos. 2, 4, 5 and 7 from close range, added another on the 10th but yielded strokes on Nos. 12 and 13. She, however, set up a 10-foot birdie putt on the 18th and made it to gain a clear shot at the crown.
Despite her mediocre 72, Hwang remained confident of her chances but stressed the need to heed her caddie-father's advice, particularly on the greens.
"I couldn't get the right reads and missed a lot of birdie chances. I could've posted an eight-under card. But it's all my fault because I didn't listen to my father," said the 17-year-old Hwang, seeking to launch her pro career with a victory at Splendido Taal Golf Club.
Another Thai Narisara Kerdrit blew a two-under card with a double-bogey on the 18th, settling for a 72 and a 147 and enabling compatriot Punpaka Phuntumabamrung to move to solo fourth at 146 after a 75.