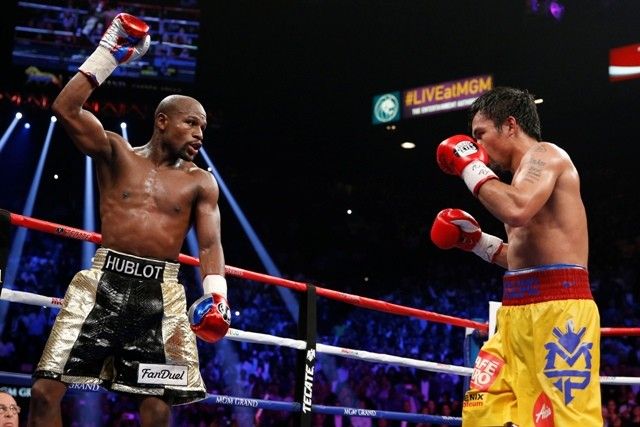 Floyd Mayweather Jr. and Manny Pacquiao during their 2015 fight in Las Vegas.
Associated Press
Pacquiao vs Mayweather rematch 'inevitable' – analyst
MANILA, Philippines – Floyd Mayweather Jr. will come out of retirement to face Manny Pacquiao again, no doubt.
Local boxing analyst Ed Tolentino sees a rematch happening between the two boxing stars.
"It is inevitable. There is so much money on the table," Tolentino said in an online interview with Philstar.com.
The first Mayweather-Pacquiao bout generated almost $600 million in revenue; and Tolentino says even if the rematch makes only half of the revenue, both boxers will still have huge purses.
Talks of the rematch have been in the air ever since the two stars fought in 2015. Since then, both boxers would occasionally run into each other. Mayweather had already even challenged Pacquiao to a second bout when they bumped into each other at a Tokyo rave party last year.
But other analysts had doubts on the rematch, after Pacquiao failed to knock out Adrien Broner during his most recent fight in Las Vegas.
Tolentino is quick to dismiss this uncertainty, citing an audience for the much-publicized rematch.
"Pacquiao may have failed to stop Adrien Broner, but the fight attracted 400,000 pay per views and was financially successful. This shows Pacman still has a following in the US and the people will still watch a Mayweather rematch," he said.
Tolentino also believes that this rematch may spell redemption for Pacquiao, who should be fitter this time.
"Pacquiao fought Mayweather in 2015 with an injured shoulder. He will be healthy in the rematch and will have to be really aggressive," Tolentino said.
With many fans questioning how much Pacquiao has left in the tank at 40, Tolentino says Pacquiao-Mayweather still may not be the Filipino's last fight.
"It remains to be seen if the rematch will be his last. If Pacquiao scores an upset, you can already sense a third match in the horizon" he said.
Will boxing fans get another taste of the Fight of the Century?