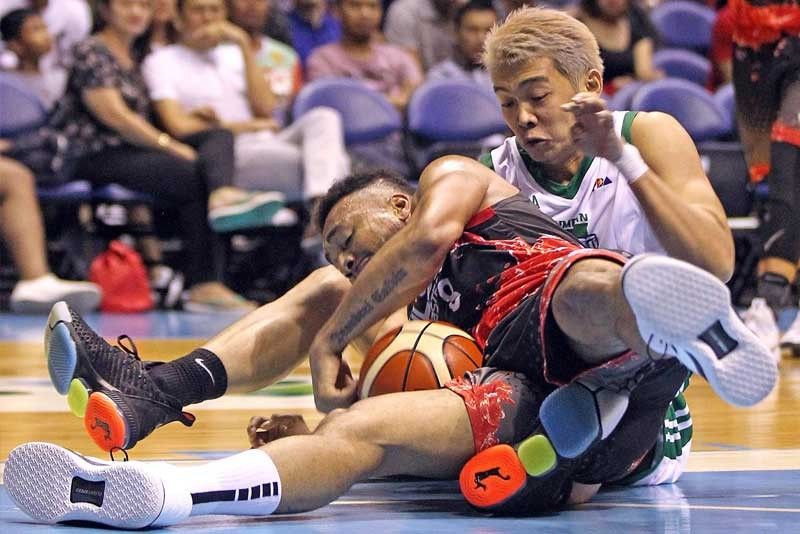 Calvin Abueva of Phoenix holds on to the ball as Jackson Corpuz of Dyip moves in.
Jun Mendoza
Fuel Masters blaze past Dyip
MANILA, Philippines — Phoenix Pulse started the game with a 12-0 salvo and dominated with a lead as big as 19 as the Fuel Masters crushed the Columbian Dyip and top rookie CJ Perez, 108-98, for a third straight win in a hot start in PBA Season 44.
Calvin Abueva, Jason Perkins, LA Revilla and JC Intal churned out solid all-around numbers as the Fuel Masters made short work of the Dyip after two victories via the hard, hard way versus the Meralco Bolts and the TNT KaTropa Texters.
A sizable crowd at the Smart Araneta Coliseum stood as witness as the Phoenix ball club recorded a first-ever 3-0 start in a PBA tourney.
"Best start, and hopefully we're still able to follow it up. We're taking a 10-day break, and we have the opportunity to study and prepare more," said Phoenix coach Louie Alas.
Next up for Phoenix is Blackwater on Feb. 1 at the Ynares Sports Center in Antipolo.
Going to their first three games in the season, Alas was just hoping to just go above the .500 especially after suffering blowout losses to Rain or Shine and NLEX in tuneups in the offseason.
"We made it 3-0, but we have yet to face the heavyweights. We have to keep on working and we have to deal with old bad habits that we want to break," said Alas.
"Twice in this game, we had a big lead and then we didn't execute coming from a timeout. At di pa rin mawala yung pattern from a big lead, we would rely on offensive firepower to hang on. But I keep reminding the guys we have to win on defense," Alas added.
Intal was one player Alas commended for exerting a tough effort on both ends.
"I reminded JC, Perez scored 24 points in the second half against San Miguel. Ayon, di na pina-iskor ni JC, and JC also had his offensive output," said Alas.
RR Pogoy drained a big trey and two charities inside the last 40 seconds of the game, and TNT KaTropa finally broke into the win-column with an 85-80 decision over NLEX later in the night.
The Texters scored a first win after dropping their first two games against Ginebra and Phoenix. NLEX reeled to a third straight loss.
"I think we're improving as we're making our shots. Hopefully, we'll be a lot more consistent. Defensively, I think we're also improving with what we've been showing with our depleted lineup," said TNT coach Bong Ravena after the game.
Ravena is expecting to have a deeper bench in their next game on the possible return of Troy Rosario and Tony Semerad.
The scores:
First Game
Phoenix 108 – Wright 22, Abueva 16, Perkins 14, Intal 13, Revilla 12, Kramer 8, Marcelo 7, Jazul 6, Chua 4, Mendoza 2, Napoles 2, Dennison 2, Mallari 0.
Columbian 98 – Calvo 18, Camson 13, Corpuz 13, McCarthy 10, Perez 10, Reyes 9, Celda 9, Escoto 8, Khobuntin 6, Agovida 2, Cahilig 0, Cabrera 0, Tabi 0.
Quarterscores: 24-14, 53-47, 82-72, 108-98
Second Game
TNT 85 – Pogoy 20, Trollano 15, Reyes 11, Heruela 11, Taha 10, Castro 9, Williams 4, Golla 3, Carey 2, Semerad 0.
NLEX 80 – Erram 19, Galanza 19, Paniamogan 10, Fonacier 8, Porter 6, Ighalo 6, Alas 3, Tiongson 3, Quinahan 3, Magat 3, Soyud 0, Baguio 0, Tallo 0.
Quarterscores: 23-21, 43-41, 69-57, 85-80