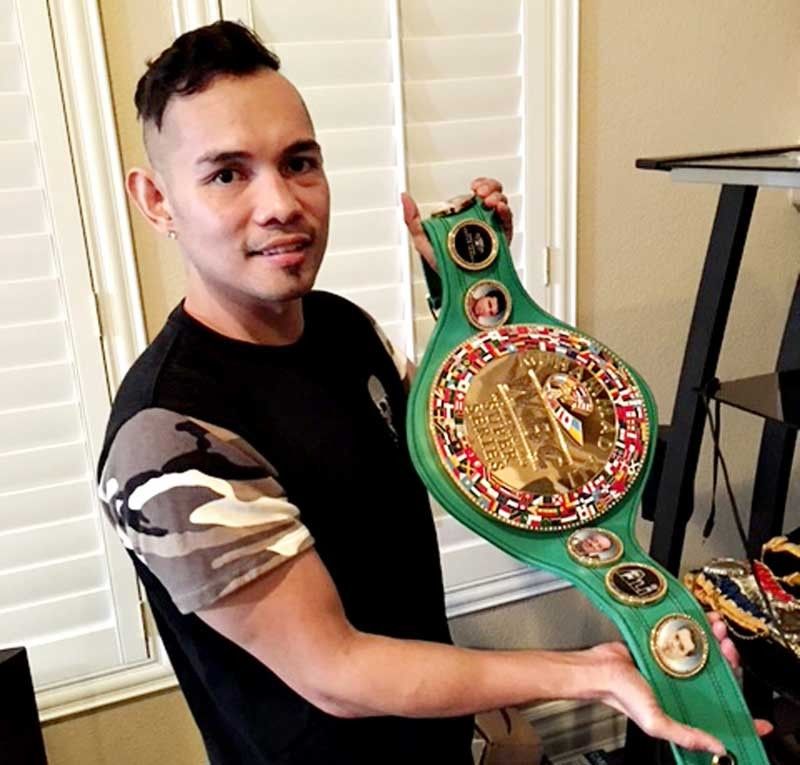 Nonito Donaire Jr. shows off his newly acquired WBC diamond bantamweight title belt.
Joaquin Henson
Donaire aims for undisputed title
LAS VEGAS – WBC diamond and "super" WBA bantamweight champion Nonito Donaire Jr. is two wins away from claiming recognition as the undisputed 118-pound king, a feat that's unprecedented in Philippine boxing history, and the next step is to beat WBO titlist Zolani Tete of South Africa, tentatively in Los Angeles in April.
No Filipino has ever gained undisputed status, meaning concurrent recognition as WBA, WBC, IBF and WBO champion in a weight division. Donaire, 36, is already in the record books as the first fighter ever to drop down two weight classes in winning a world championship. The Filipino Flash went from featherweight to bantamweight to dethrone WBA titleholder Ryan Burnett via a fourth round retirement in Glasgow last November. It was Donaire's first rung in the World Boxing Series Series (WBSS) ladder to reach undisputed status.
Tete, 30, beat Russia's Mikhail Aloyan on points in his first move up the WBSS ladder last October. The winner of the Donaire-Tete bout will advance to battle the survivor of the other WBSS pairing between Japan's Naoya Inoue and Puerto Rico's Emmanuel Rodriguez for the undisputed crown. In other previous WBSS encounters, Inoue disposed of the Dominican Republic's Juan Carlos Payano in one round while Rodriguez outpointed Australia's Jason Moloney on a split verdict. Inoue holds the "regular" version of the WBA title (Donaire is the "super" WBA champion) and Rodriguez wears the IBF strap.
"I think Tete is easier to beat than Burnett," said Donaire. "I've studied his style on film. It's not like Burnett who was hard to figure out because of his style. I'm confident of beating Tete and going all the way to become the undisputed bantamweight champion." Former US Olympic boxing coach Kenny Adams, who made his debut in Donaire's corner in Glasgow, will be back with the team for the Tete fight.
Donaire said the plan is to stage his fight against Tete and the Inoue-Rodriguez bout on the same card at the Staples Center in Los Angeles. "It makes sense because right after both fights, WBSS can do a press conference to announce the final between the two winners," he said.
Donaire brushed off reports that Burnett suffered a slipped disc which prompted his surrender in their fight. In between the third and fourth rounds, Burnett could be heard on film confiding to his cornerman that he was hit on the waistband and couldn't bring up his right hand. A replay of the action in the third round will show Donaire landing a solid shot to Burnett's body, causing his right hand to drop. "The body shot did it," said Donaire's wife Rachel. "Burnett admitted it before the start of the fourth round. Besides, about a week later, there's a photo on Instagram showing Burnett holding up two girls with both arms. No way someone with a slipped disc can hold up two girls weighing at least 80 pounds each."
Donaire said it was easy dropping down to 118 pounds. "Right now, I'm walking around at 129," he said. "No problem trimming down. It was a smart thing to drop to bantamweight because that division is where no one can match my speed and power."