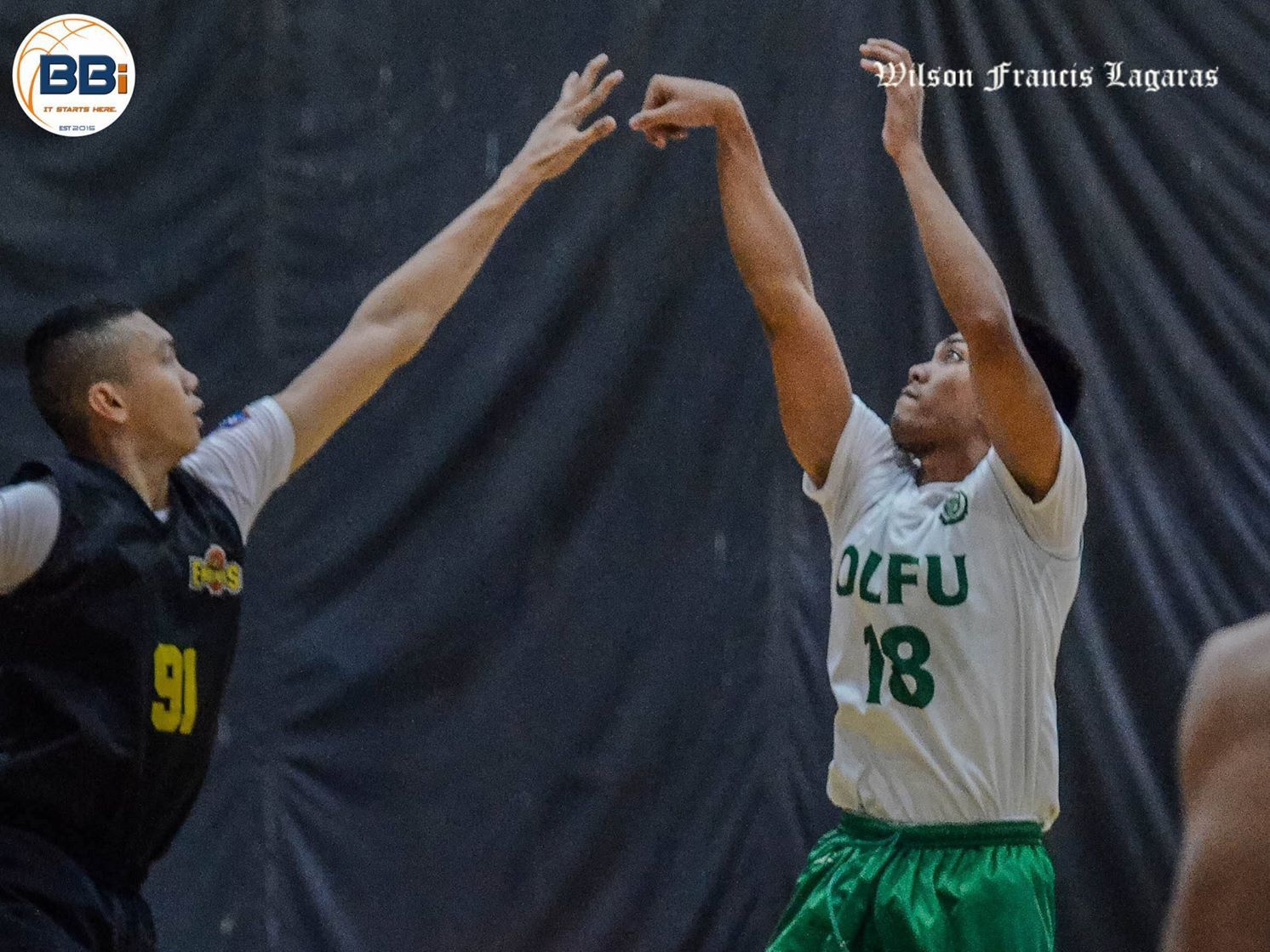 OLFU's Nico Panganiban hitting a jumper en route to a game-high 21 points against TIP in the sulit.ph BBI Men's Under-25 Team B competition
Photo courtesy of Rick Olivares
OLFU survives late TIP rally in BBI hoops
MANILA, Philippines – The Our Lady of Fatima University (OLFU) Phoenix escaped with a heart-stopping, 70-68 win over the Technological Institute of the Philippines (TIP) in the sulit.ph BBI Men's Under-25 tournament at the Moro Lorenzo Sports Center.
OLFU led by four, 70-66, with 39 seconds left after a lay-up by Nico Panganiban. The TIP Engineers had five chances to steal the win and they botched four of them.
Bryan Santos drove hard, but Phoenix center Chris Essomba, blocked the first shot. Santos retrieved the loose ball and yet still missed a close range shot. TIP's consolation was teammate Jopet Soriano was once more able to corral the loose ball and get fouled in the attempt. Soriano hit two free throws left to slice the deficit in half, 70-68; with 27 seconds left in the game.
OLFU's Red Lumbera had a chance to give his team a comfortable cushion when he trooped to the free throw line, except he missed both shots. Incredibly, Lumbera got the offensive board, but Ximone Sandagon poked the ball away. With a chance to tie the score or even take the lead with a three-pointer, Sandagon threw an errant pass that was picked off by VJ Alarcon.
Alarcon had another chance to put the game to bed for OLFU, but he missed both free throws with seven ticks left in the game. Calling for time, TIP went for broke but Santos missed his trey attempt giving OLFU its fourth triumph in five outings. TIP fell to an even 2-2 matching idle De La Salle and slightly ahead of Ateneo and AMA which sport identical 2-3 records. The UP Fighting Maroons Team B, with Ricci Rivero leading the charge, totes a 1-4 record.
San Sebastian is atop the eight team standings with a 5-0 record.
Panganiban led OLFU with 21 points and seven rebounds while Alarcon chipped in 10 points and six caroms.
For hard-luck TIP, Bryan Santos led the way with 21 markers with Papa Ndiaye contributing 17 rebounds and nine boards.
OLFU made good use of their 22-12 edge in offensive rebounds where they scored 20 second chance points. They also pounced on TIP's 24 turnovers that they were able to convert into 29 points.