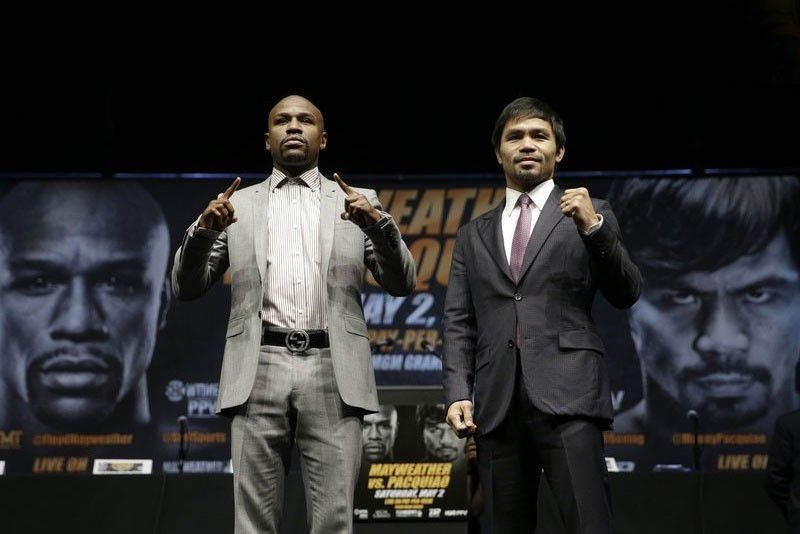 Pacquiao and Mayweather
AP/File
Stay retired if you can't fight on my level, Pacquiao tells Mayweather
LOS ANGELES – Manny Pacquiao only wants good fights from now on.
At 40, he said he still wants to take on fighters who can give him a run for his money.
A rematch with Floyd Mayweather Jr.? Sure, but only if the retired former pound-for-pound king can still compete.
After his 12-round domination of Adrien Broner in Las Vegas over the weekend to notch his 61st win, Pacquiao still has no plans to call it quits.
"I'm still here in boxing. I want to fight the best fighters out there," he told Chris Mannix of Sports Illustrated.
The talks about a Mayweather rematch will never stop, as neither boxer can earn more fighting someone else.
Mayweather defeated Pacquiao in their 2015 showdown, and the Filipino icon has always wanted another crack at the undefeated American.
But only if Mayweather can keep up with him.
"If he cannot fight on my level, he better stay retired," said Pacquiao.
Mayweather hasn't fought professionally since stopping UFC star Conor McGregor in 2017. But he had been in the ring recently, an exhibition match against a Japanese kickboxer on New Year's eve — a farce of a fight.
He and Pacquiao just keep running into each other since.
Mayweather was ringside at the MGM Grand in Las Vegas Saturday (Sunday Manila time) to personally check out Pacquiao against Broner.
"I knew he was there. He came into my dressing room before, said good luck," Pacquiao recalled.
"I wasn't thinking about that," he said when asked if he expected Mayweather to climb the ring after the fight and tell him he agrees to a rematch.
The two boxing stars again crossed paths two days later, at the NBA game between the Los Angeles Lakers and the visiting Golden State Warriors at the Staples Center.
January 22, 2019
No one knows for sure if the two will ever get it on again.
Pacquiao, for his part, is just certain that he still has it.
"I felt fine. I don't feel 40 in the ring. I feel the same as I always did, just more experienced," Pacquiao said
He just can't avoid being asked about Mayweather.